English
Harvest Moon Symposium 2004
Le nom du symposium vient du festival chinois de la « Pleine lune d'automne », qui se célèbre presque simultanément. Trois jours d'entretiens et de présentations, de concerts d'œuvres pour multi haut-parleurs, d'installations et de performances. Oscar Peterson Concert Hall, Université Concordia (Montréal), 22–24 septembre 2004.
Named for its proximity to the Chinese Mid-Autumn Moon Festival, HM 2004 was a three-day symposium with presentations and panels, concert works on a multi-speaker system, installations and performances. Oscar Peterson Concert Hall, Concordia University (Montréal), 22–24 September 2004.
Articles et présentations / Articles and Presentations
Diffusion électroacoustique sur Systèmes « multi Haut-parleurs » / Sound Reproduction Using Multi-Loudspeaker Systems
by Philippe-Aubert Gauthier
Une discussion qui se concentre principalement sur la classification des technologies de reproduction du caractère spatial de l'audition naturelle tout en situant la diffusion sur systèmes « multi haut-parleurs » dans ce contexte.
An article discussing reproduction technologies of the spatial character of natural hearing, with consideration of sound diffusion using multi-loudspeaker systems.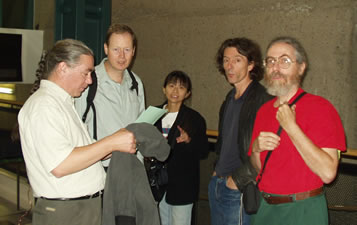 Butterfly Installation Instrument
by Kevin Austin
Une description de l'évolution d'un instrument de diffusion créé par Kevin Austin et présenté au Symposium « Harvest Moon » (Pleine lune d'automne).
A description of the evolution of a diffusion instrument created by Kevin Austin and highlighted in the Harvest Moon Symposium.
Recreating the Real, Realizing the Imaginary: A Composer's preoccupation with acoustic space [pdf]
by Rob Godman
Bref article sur l'application de la science acoustique à la spatialisation d'œuvres et de lieux anciens et actuels.
Brief article concerning the science of acoustics and its application to spatialisation in ancient and present-day works and spaces.
The Enigma of Vitruvian Resonating Vases and the Relevance of the Concept for Today [pdf]
by Rob Godman
Un article explorant les problèmes liés à la création et au contrôle d'espaces résonants, à partir des constructions et des écrits de l'architecte romain Vitruvius jusqu'aux installations et aux œuvres « localisées » contemporaines.
Article exploring the creation and control of resonating spaces, from Roman architect Vitruvius' work and writings through to installations and site-specific works of present-day.
Le mastering en électroacoustique / Sound Mastering for Electroacoustics
par Dominique Bassal
Dans une présentation basée sur ses recherches documentés dans « La pratique du mastering en électroacoustique » (eContact! 6.3), l'auteur a exploré des notions d'exportabilité du son et du contrôle de la qualité audio dans le cadre de deux sphères d'activité : la production sonore et le mastering.
In a presentation based on his research documented in "The Practice of Mastering in Electroacoustics" (eContact! 6.3), the author explored the notions of sound exportability and control over sound quality within the framework of two spheres of activity: sound production and mastering.
Есенска месецина [Esenscka Mesechina] (Autumn Moon)
by Robert Sazdov
Composée pour une configuration de haut-parleurs en double-losange (7.1), cette œuvre se situe dans la ligne de traditions folklorique en Macédoine et se sert de trois chansons automnales macédoniennes comme source sonore.
This piece, composed for a "double diamond" speaker configuration in a 7.1 set-up, is a contemporary contribution to Macedonian folkloric traditions, using as source materials three traditional Macedonian Autumn songs.
Média / Media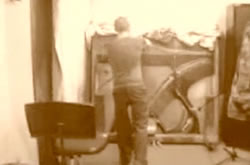 Electroacoustics
by Benjamin Henderson
Cette courte pièce audio-visuelle est composée à la manière des « cut-ups » de William S. Burroughs. Filmée dans le studio électroacoustique de première année du Département de musique de l'Université Concordia, avec « Joda » dans le rôle principal.
This short audio-visual work, composed in the manner of Burroughs' media cut-ups, stars "Joda". Filmed in the first-year electroacoustic studio of the Music Department of Concordia University.
De plus… / Related Items
Introduction aux fondements, aux technologies et aux applications potentielles de la synthèse de champs acoustiques pour la spatialisation audio sur réseaux de haut-parleurs [pdf] / An Introduction to the Foundations, the Technologies and the Potential Applications of the Acoustic Field Synthesis for Audio Spatialization on Loudspeaker Arrays [pdf]
by Philippe-Aubert Gauthier, Alain Berry and Wieslaw Woszczyk
Principalement dédié aux artistes ou aux compositeurs intéressés par la recherche et la création avec des réseaux de haut-parleurs qui peuvent inclure jusqu'à quelques centaines de sources, cet article introduit la technologie de reproduction du son qu'est la synthèse de champs acoustiques (WFS pour « Wave Field Synthesis »).
An article discussing Wave Field Synthesis (WFS), a sound reproduction technique which reconstructs the virtual sound field over a vast zone of the reproduction space. Also concerns research and creation with networks of loudspeaker networks including up to one hundred sources.
La synthèse musicale inspirée de la physique des instruments de musique : Considérations techniques et musicales
by Philippe-Aubert Gauthier
Cet article introduit de façon textuelle et illustrée les liens entre la synthèse audionumérique et la modélisation physique des phénomènes acoustiques et vibratoires qui régissent le comportement des instruments de musique acoustiques.
In this illustrated introductory paper, the relations between vibroacoustic theoretical models (physical modelling) and sound synthesis principles are presented.
Biographies