Light+Sound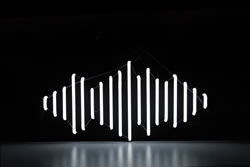 Sound artists have always maintained a strong relation with the visual. This issue of eContact! is more specifically interested in the creative use of sound and light. Historical and analytical reflections are complemented by contributions that bring "to light" different artistic perspectives and practices.
Historical and Analytical Perspectives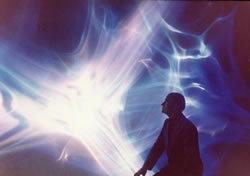 The combination of sound and image is often associated with the history of cinema, however, the premises of audio-vision date back to Antiquity. The connections between sound and colour are first encountered with the Pythagoreans, and research surrounding these relationships is still pursued nowadays.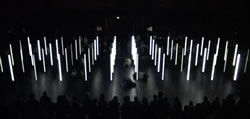 Applying Michel Chion's concept of "synchresis" to the analysis of contemporary audiovisual installations, the author proposes a graphical framework for the analysis and composition of audiovisual dynamics.

Lumia is an art form that uses only light as a means of artistic expression. Thomas Wilfred detailed the components of lumia in 1947, and these are examined and reapplied to concepts in contemporary fixed-media audiovisual composition.
Audioluminosity

Discussion on the sources and æsthetic approaches to the use of light, an integral part of a body of works created by Nicolas Bernier between 2011 and 2017. Fragments of ideas are positioned in relation to the driving forces, leading to lines of thought and reflection around a practice that blends sound and light.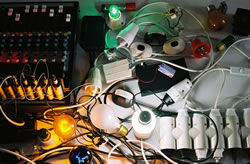 An overview of the important impact the incandescent lamp has made on modern light art exploring the relation between sound and light forms the background for some intimate insight into Michael Vorfeld's audiovisual project, Light Bulb Music.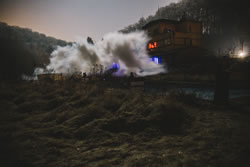 With an impressive body of work that blends sensor-based music, interactive video and theatrical choreography into immersive works or even psychedelic mise-en-scènes, Alexander Schubert details the importance of light in his language and how its artificiality engages unusual relationships with the public.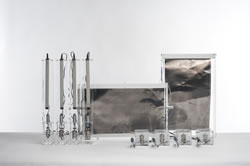 Through a presentation of the æsthetic principles and motivations underlying their works of kinetic and mechatronic sound sculpture, and a discussion of their visceral approach to amalgamating light and sound, the authors highlight the impact of light in their collaborative audiovisual projects.

Through their collaborative audiovisual project (I)MAGE SOUND(S), artist Jim Hobbs and composer Andrew Hill bring together the practices of experimental film and electroacoustic music in order to create live, expanded audiovisual performances that explore the materiality of sound and light.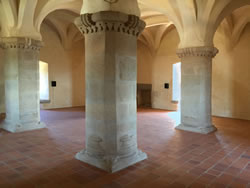 Installed in the Castle of Evoramonte in Portugal's Alentejo region in 2016, Scott Sherk and Pat Badt's Cor + Som incorporated the light, sound and colour of the area within the massive stone walls of the castle.
Transference: Light to Sound and Sound to Light

A DIY light-to-sound transducer has two sides where the corresponding potential initiates a new set of relations. What comes about cannot be predetermined, but its "coming to be" can be traced, mapped, sensed, detected and transformed through the experience of listening to light.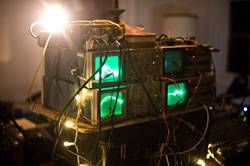 Imagine a synthesizer cobbled together from lab equipment and solar batteries. Using a feedback system made from photodiodes and the CRT beam of an oscilloscope, Daniel Fishkin explores a diegetic light and sound system for music-making.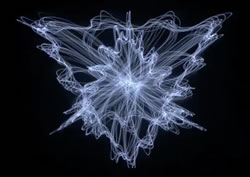 Vector Synthesis proposes a media archaeological model of audiovisual performance using the obsolete technology of analogue voltage-controlled cathode ray tubes.
[Galleries] Light+Sound in Canada: A Panorama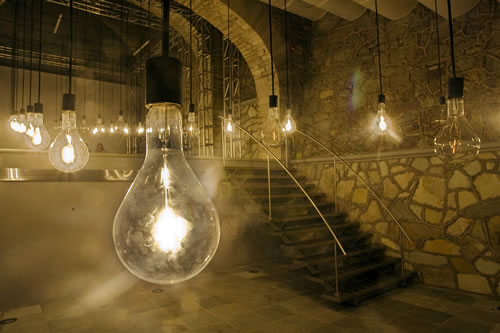 for 64 1000 W incandescent light bulbs, custom dimmers and computer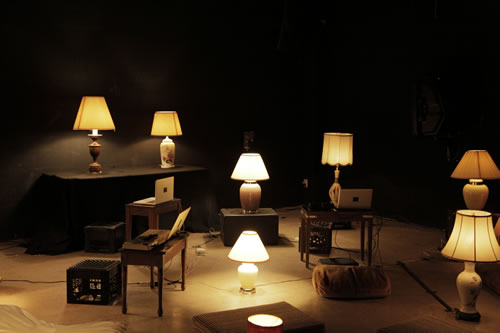 for 3 laptop performers, 12 lamps and 14.1-channel sound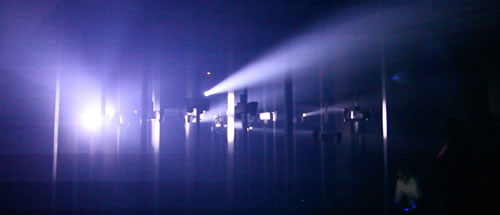 robotic installation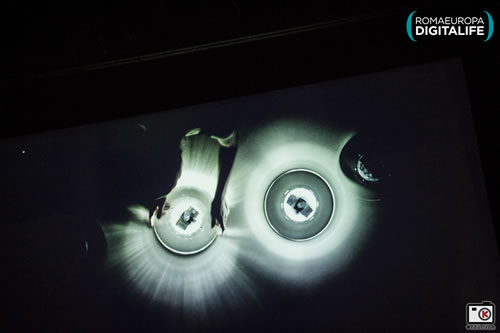 audiovisual performance for 4 spinning tops equipped with sensors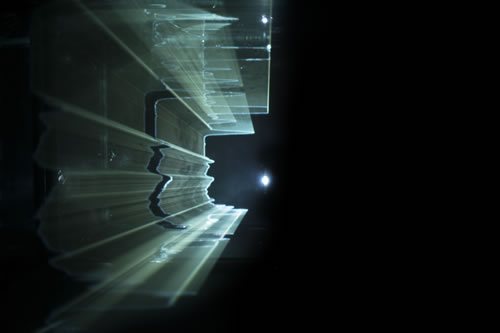 for 2 transparent boxes, smoke machine and projector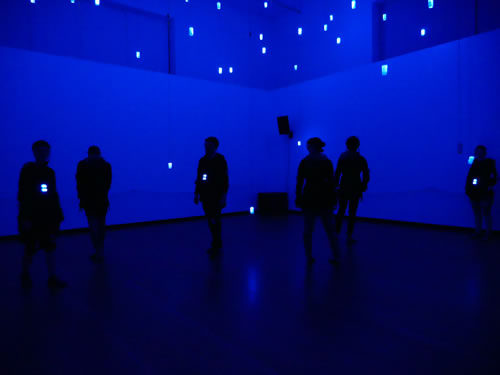 a multisensory installation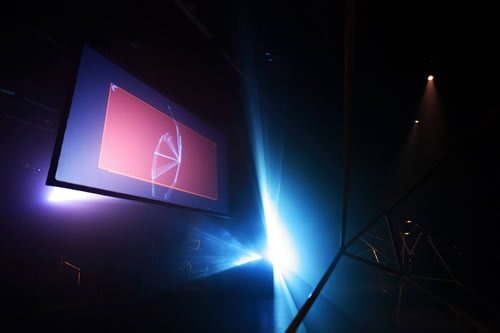 for 2 projectors, HUD, haze/smoke, Xbox/PS4 controller and 1 performer
Other Items
SONUS.ca
Works by some authors and / or artists in this issue can be heard in SONUS.ca, the CEC's online electroacoustic jukebox: