English
Harvest Moon et autres festivals, conférences / Harvest Moon and Other Festivals, Conferences
Editors — jef chippewa and Yves Gigon
Web Administration — Yves Gigon
Translation — Dominique Bassal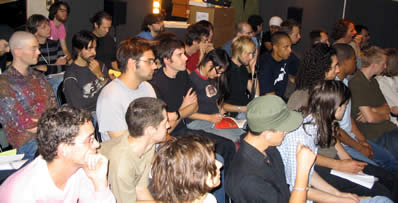 This year's symposium focused on the technical, compositional and performance issues surrounding multi-channel audio, and featured paper presentations and concert hall performances/presentations of multi-channel works. The events were complemented with an ongoing installation for improvisational performance, run by students in Concordia's Electroacoustic Studies program.
Compositional Strategies for Point-Source Spatialization
by Christopher Burns


This paper considers three compositional approaches for multi-channel spatialization, termed "polychoral", "sculptural", and "sonification". Each strategy is oriented towards embodying the individual loudspeakers as musical presences, rather than dematerializing them in a simulated ambience.

A Review and an Extension of Pseudo-Stereo for Multichannel Electroacoustic Compositions: Simple DIY Ideas
by Philippe-Aubert Gauthier


In this tutorial, pseudo-stereo techniques used to give "volume" to a monophonic sound over conventional two-channel stereophonic systems are reviewed and then conceptually extended to multichannel systems for electroacoustic music composition. The applications are illustrated as Pure-Data Do-It-Yourself examples.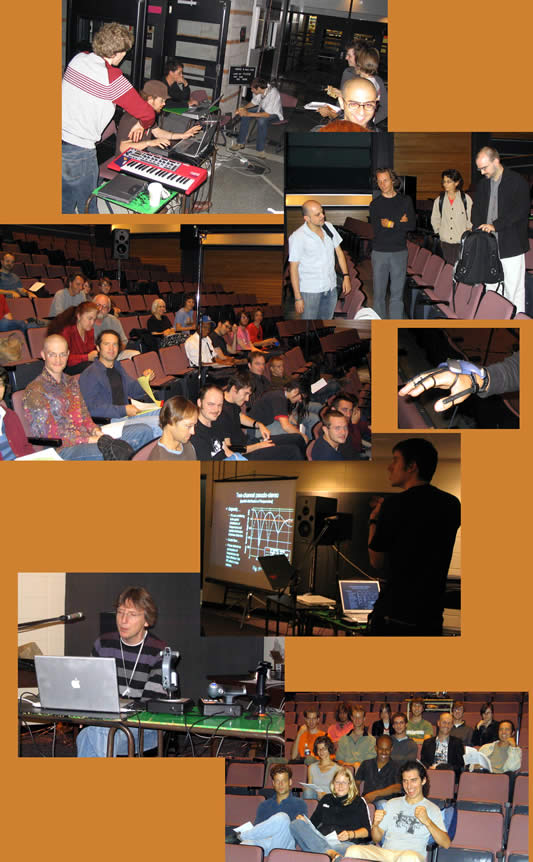 Live Electro-Acoustic Music Scoring and Sustainability
by Nicola Bernardini and Alvise Vidolin


Many Real-time/performed electroacoustic music of the recent past can hardly be performed today because the technologies used have gone lost since a long time and no long-standing notational precaution was taken. This paper presents some typical case studies and examples and introduces some techniques that might lead to a partial when not completely adequate solution to the sustainability problem.

Sound and Music Computing '04 (Paris FRANCE, 24–26 November 2004)


Nearly 50 papers presented at the 2004 edition of the conference, covering a broad range of topics — Programming, Improvisation, Perception, Physical Modelling, etc. — are available on the SCM04 site.
Other Articles
Why do you want so many Loudspeakers?
by Kevin Austin


Some thoughts on, and a basic introduction to some of the issues around the history and production of electroacoustics.

Some Considerations for Spatial Design and Concert Projection with Surround 5.1
by Felipe Otondo


Article describing the composition of an electroacoustic work using a 5.1 surround sound system for studio monitoring and diffusion in a concert hall. Some conclusions are drawn as regards limitations and advantages of surround 5.1 systems for electroacoustic music composition...

Sound Shaping and Timbral Justification in the "Moral Realist Combat Film" Black Hawk Down
by Philippa Gates and Paul Rudy


Contemporary combat films focus on the maturation of feminized boys into masculine heroes through war-soldiers who "do the right thing" when faced with moral dilemmas no matter what their orders. Sound and timbral development plays a crucial role in the film Black Hawk Down towards defining, substantiating and sustaining these thematics. Analogous sonic thematics, and their timbral development, are shown in analysis of scenes from the film.

Audio for Video
by Gavin Fernandes


Excerpts of a talk given at The Banff Centre by Fernandes, discussing emerging trends in audio as they deal with loudness concerns in film and TV post-production.

Soundscaping the Paramount
by Lisa Gasior


Article discussing noise level measurements and sonic observations gathered and compiled in the Fall and Winter of 2003 at this Montréal movie theatre. The work also included recordings of both public and behind-the-scenes areas of the theatre, showing the effects of numerous powerful theatre sound systems.

Soundscape Composition, Globality and Implicated Critique
by Phil Thomson


In a globalized world, it is often difficult for critique to stand fully apart from its object, and often critique becomes implicated in its own sweep. The author examines the notion of implicated critique as it is embodied in some of his recent compositional work.

Generalizing Digital Waveguides for Composition
by Christopher Burns, Stefania Serafin and Matthew Burtner


This article describes a number of extensions to digital waveguide synthesis, along with the compositional motivation for each technique. Extensions include unconventional excitation functions, variations on section and network configurations, peak-limiting strategies, and multichannel spatialization techniques.
Reviews, Previews and New Releases
De plus… / Related Items