FRANÇAIS
[Jeu de temps / Times Play 2015]
Winning Works and Composers
Winners / Gagnants | Submissions / Soumissions | Events / Événements | Awards / Prix | Jury
For each edition of JTTP, a broad and diverse international jury has the task of judging all submissions to the project. The composers of the five top-placing works receive prize packages consisting of CDs, DVDs, books and magazine subscriptions, and the composers of the top three works additionally receive cash prizes. The many generous JTTP 2015 Project Partners, Financial Donors and Media Partners are listed on the Awards, Project Partners and Support page. Over the course of the 2015–16 year, the top five works (listed below) are presented in a number of Events, Concerts and Radio Broadcasts coordinated with our Media Partners. Check out the Participants and Submissions page to hear all works submitted to this year's edition of JTTP, and to read programme notes and composer biographies.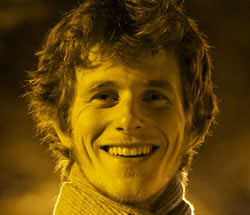 Xavier Madore — Récit d'un presqu'aller-retour (2014 / 8:45)
False impression of progress; undeniable continuity of time passing distorted by a material stagnation, forcing a return to the same obsessive and persistent elements. It is with difficulty and misery that the couple "action / holding" — saturated by redundancy and at the threshold of changing states — eventually leads to a contemplation of objects previously insinuated. Falling into a familiar micro-articulated territory, this time armed with a fluidity and a renewed flow of energy, and concluding — almost — a round trip.
Xavier Madore was first "struck" by sound art while studying with Michel Tétreault and Pierre-Marc Beaudoin and is presently continuing his studies at the Conservatoire in Montréal. Primarily a clarinettist, his inclination for song and poetry are important characteristics in his work. His pieces are particularly focused on finding a narrative structure and advocate a discourse of articulated gestures.
http://soundcloud.com/xavier-madore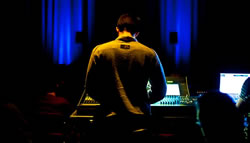 Charles-Philippe Tremblay-Bégin — Valsalva (2014 / 7:30)
The Valsalva manœuvre, named after its inventor, Antonio Maria Valsalva, consists in recalibrating intra-auricular pressure by blocking the nose and blowing relatively strongly with it. After listening a few times at loud levels, this method seems essential. The piece uses three compositional strategies: iterations, drones and sudden impacts. Throughout the work, these procedures are combined to the point of saturation. Metallic sounds were preferred in the making of the piece, and different orchestral percussion instruments can be heard: tam-tams, antique cymbals, bell plates, tuning forks, many usual objects, and even a staircase used as an instrument rather than an acoustical space. To ensure a sense of unity to the work, almost all of the musical material was shaped through granular synthesis. The process gives an impression of swarming in almost each and every sound. In 2014, Valsalva won 2nd Prize in the SOCAN Awards for Young Composers and has been played in Buenos Aires during Sonoimágenes festival.
Before completing a BA in music composition at the Conservatoire de Musique de Montréal, Charles-Philippe Tremblay-Bégin studied composition with Michel Tétreault at Cégep de Saint-Laurent. His recent work is mainly oriented towards the inclusion of scenic elements or video during multimedia concerts. He works frequently with composer and video artist Jonathan Goulet towards the goal of making immersive events. His work has been played by emerging groups such as Ensemble Paramirabo and Magnitude 6. He is presently completing his master's degree at the Conservatoire.
http://soundcloud.com/charles-philippe-tremblay-b-gin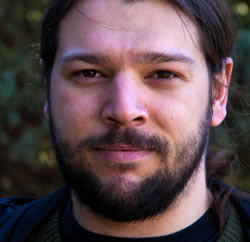 Guillaume Campion — Littorale (2015 / 45:02), acousmatic documentary
And most of all, sing! Sing those beautiful songs from our sweet France [...] and do not forget to shed a small tear of gratitude for our Canadian friends who have so preciously conserved them.
—Olivier Messiaen
So that the village may become a country, one must denounce the picturesque and find the bottom of things.
—Pierre Perrault
In 1918, anthropologist Marius Barbeau arrives on his bicycle in Sainte-Anne-des-Monts and Tourelle, two small and remote villages on the north shore of the Gaspésie peninsula, equipped with a phonograph and a crate filled with wax cylinders. Within just a few weeks, Barbeau collects from a handful of villagers, mostly residing in the secluded part area of Tourelle, almost 800 hundred folksongs, many of them dating back from as far as Middle Ages France.
An acousmatic documentary in two parts preceded by a musical prelude, Littorale tells the story of Barbeau's visit in the area and of the people who preserved this imposing heritage until just recently. Based on an alloy of acousmatic music and documentary techniques, the piece traces back this repertoire's evolution from the last century until now, as a strong interest towards those folksongs and tales arises from the impetus of local cultural and political authorities.
Informants (in order of appearance): J.-Augustin Saint-Laurent, Gaétan Pelletier, Benoît Thériault, Nathalie Synnett, Simon Landry, Daniel DeShaime, Micheline Pelletier. Special thanks to the Canadian Museum of History, to the Fonds de recherche du Québec — Société et culture (FRQSC) and to the Social Science and Humanities Research Council (CRSH).
It is between the sea and mountains of his native Gaspésie that Guillaume Campion first began to perform and compose music. Since 2009, he has been studying electroacoustic composition at the Université de Montréal. His music has been played in concert and on radio airwaves in Canada and abroad, among others at CMMAS (Morelia, Mexico), ICMC 2011 (Huddersfield, UK) and Novellum Festival 2011 (Toulouse, France). He also received 4th and 5th prize in the 2010 and 2011 editions of the Canadian Electroacoustic Community's JTTP contest, and was among the finalists of Musica Nova 2012 contest (Prague, Czech Republic). He is currently pursuing a master's degree at the Université de Montréal, aiming to integrate elements of the documentary genre into electroacoustic composition.
http://soundcloud.com/guillaume-campion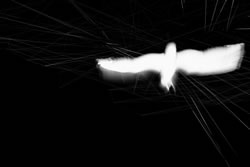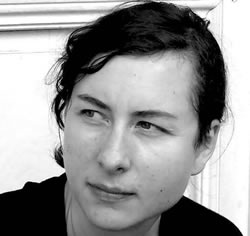 Myriam Boucher — Cités (2015 / 10:34), videomusic
Material to digital cities.
the world is reversed
inhabited space dies and reborn
ruin or dust
no matter
trace has resonance in us
a noise that lasts
Myriam Boucher is a Montréal-based artist. Since 2006, she has extended her field of artistic projects in the North American music scene. From her early experiences as a keyboardist in various instrumental music projects through to her visual work, her works tend to elude classification. Since 2013, she creates electroacoustic music, videomusic, performance and audiovisual installations. Inspired by natural phenomena, she deals with sound and image from organic and synthesis materials. Her work has been awarded prizes in the JIM Electroacoustic Compositions 2015 Competition and Bourse Euterke 2015 in video (SAT). In 2015, her works were presented at many events, including the New York City Electroacoustic Music Festival, NoiseFloor (UK) and Understanding Visual Music 2015 (Brazil).
http://vimeo.com/user20638366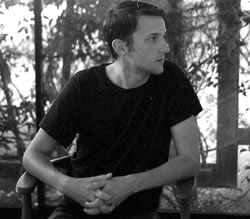 Devon Hansen — Habitation (2015 / 5:30)
Informed by the materials and aesthetics of architecture, Habitation is a study in tactility and connotation using concrete, steel, wood, glass and plexiglas. It aims to exploit the region between auditory and mechano-receptive information, where the mass and surface of an object may be implied to the mind by the sounds it produces. The work follows a simple narrative, wherein a series of rooms is constructed, their modes are excited by metallic impulses, and the structure finally slips into a violent state of disintegration.
Devon Hansen is an American-born composer and video artist based in Montréal. Covering a broad range of styles, his work has been released under a number of pseudonyms by labels in North America, the UK and Japan. He is currently pursuing his undergraduate studies in electroacoustics at Concordia University in Montréal.
http://soundcloud.com/d_hansen