English
Interviews 2
See below for a full list of interviewees found in this issue.
Featured Contributor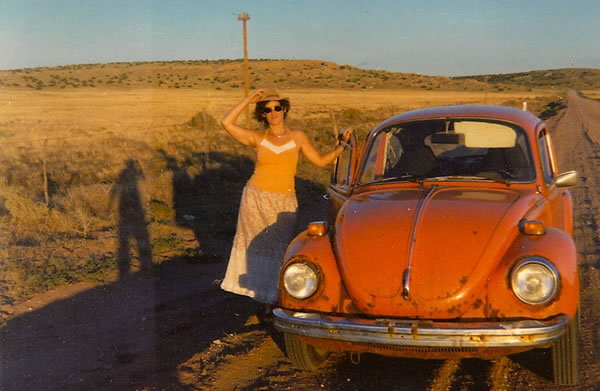 Since 1984, Barb has hosted the late-night / early morning Crack o' Dawn on KPFA radio, in Berkeley, California. Her extensive list of guests is a virtual inventory of everyone who has in some way contributed to the development of the experimental music scene, particularly in the San Francisco Bay Area. For this issue of eContact!, Barb has scoured her archives and extracted a number of the conversations with her guests. Talk, anecdotes, explanations, background, cooking tips, gossip and more offer a peek into that scene.
Conversations with AA Bee Removal (Sam Ashley and Ben Azarm), Maryanne Amacher, Charles Amirkhanian, Laurie Anderson, Antimatter, Kenneth Atchley, John Bischoff, Chris Brown, Rhys Chatham, Jay Cloidt, Crawling with Tarts (Michael Gendreau and Suzanne Dicus), Alvin Curran, Paul DeMarinis, Paul Dresher, Cenk Ergün, Fuzzy Bunny (Tim Perkis, Chris Brown and Scot Gresham-Lancaster), Diamanda Galás, Guillermo Galindo, Barbara Golden, Scot Gresham-Lancaster, Phil Harmonic, Lou Harrison, Jim Horton, David Kwan, George Lewis, Matmos (Drew Daniels and Martin Schmidt), Miya Masaoka, Mills College Didgeridu Ensemble, Ed Osborn, Maggi Payne, Tim Perkis and Wobbly, Doug Quinn, Wendy Reid, Terry Riley, Sean Rooney, Frederic Rzewski, Sagan (Wobbly, Blevin Blectum, J Lesser, Ryan Junell), Kattt Sammon and Kenneth Atchley, Laetitia Sonami, Carl Stone, Susan Stone, Mark Trayle, La Monte Young.
Other Interviews
Currently comprising about 50 hours of digitally recorded interviews, The Video Archive of the Electroacoustic Music began in 1996 out of a desire to capture a first-person history of the pioneering composers, scientists, and engineers from 1950 to present. Many of the key figures in the founding and development of the American electroacoustic history and scene are featured in the collection. A number of video excerpts of this collection have been provided for publication in eContact! 12.2.
Interviews with Milton Babbitt, Bebe Barron, Gustav Ciamaga, Mario Davidovsky, Paul Lansky, Max Mathews, Pauline Oliveros, Ramon Sender, Alice Shields, Dave Smith, Allen Strange, Morton Subotnick, Ivan Tcherepnin.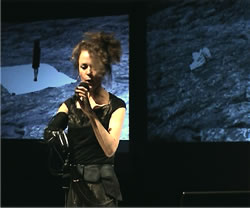 Franziska Baumann (Switzerland) is an internationally acclaimed vocalist, composer and sound artist of improvised and composed music. As a vocalist, she explores the human voice as a multi-faceted instrument using an interactive SensorLab-based Sensorglove she developed at STEIM.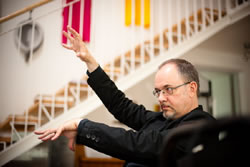 Karlheinz Essl is an Austrian composer, performer, improviser and media artist of electronic and interactive music (with emphasis on algorithmic composition and generative music). He has developed numerous real-time compositions, sound installations, software environments and computer-based electronic instruments.
Kunst Radio creator Heidi Grundmann discusses her extraordinary 30+ years career in journalism and the wide range of activities of Kunst Radio — the weekly radio art program on Österreich 1 (Austrian National Radio, ORF), founded in 1987. 7 April 2005.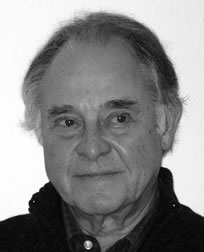 A discussion of early and historically important FM-Synthesis works by Chowning, the possibilities that FM-synthesis opened up for him, and his use of Lissajous Figures and Doppler Shift in creating the illusion of motion.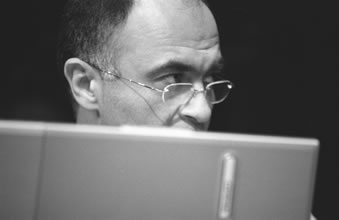 Questions of cultural and musical identity come to mind as Yadegari discusses how his encounter with electronic music and his background in Iranian music cultures have impacted and influenced one another in his compositional work.
Interviews by Kalvos & Damian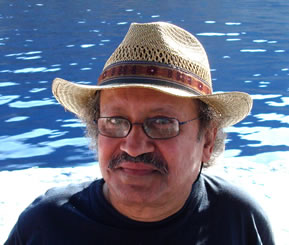 Barlow discusses compositional processes and contexts in works such as Im Januar am Nil, Orchideæ Ordinariæ and Farting Quietly in Church, as well as AutoBusk, a program he developed for the "real-time probabilistic generation of MIDI signals" that can be used to generate a range of musical styles, from serial to "oom-paa". [Broadcast 4, 11, 18 January 1997]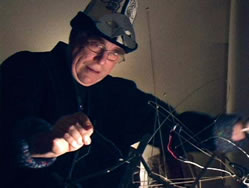 New York based clarinetist and composer Daniel Goode talks about his career since the early 70s: the founding of an EMS at Rutgers, founding The DownTown Ensemble and his "thrush music", which combines bird song field recording transcriptions and folk musics. [November 2002]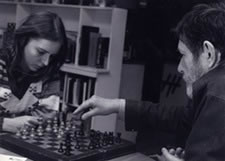 Singer / vocal artist and composer La Barbara talks about her performance career and compositions since the early 1970s, and on her work with composers Steve Reich, Philip Glass, John Cage and Morton Feldman and poet Kenneth Goldman. [June 2004]
With guest interviewer Eric Lyon, K&D talk to Lewis about his improvisation projects and workshops, which aim to help the performer avoid stylistically-bound aproaches to improvisation, his background in the development of the African-American improvisation scene in Chicago, the early days of the AACM and the creation of community. [Broadcast 20 July 2002]
The CEC's WIKI
Interviews [wiki]: List of Interviews with Electroacoustic Composers, Performers, Programmers and More
A number of further interviews are listed on the Interviews page of the CEC's wiki. This "living" resource will continue to grow, with links to interviews online as well as listing interviews found only in print. Your contributions are invited!
Columns
[COMMUNITY REPORTS] Technology-Based Sonic Arts in Norway by Jøran Rudi
SONUS.ca
Works by some authors and / or artists in this issue can be heard in SONUS.ca, the CEC's online electroacoustic jukebox:
Full List of Interviewees in this Issue
Names in bold indicate Canadian artists or content related to Canada.
AA Bee Removal (Sam Ashley and Ben Azarm)
Amacher, Maryanne
Amirkhanian, Charles
Anderson, Laurie
Antimatter and David Kwan
Atchley, Kenneth
Austin, Kevin
Babbitt, Milton
Barron, Bebe
Barlow, Clarence
Baumann, Franziska
Bischoff, John
Brown, Chris
Chatham, Rhys
Chowning, John
chippewa, jef
Ciamaga, Gustav
Cloidt, Jay with Paul Dresher
Crawling with Tarts (Michael Gendreau and Suzanne Dicus)
Curran, Alvin
Davidovsky, Mario
DeMarinis, Paul
Dresher, Paul
Dresher, Paul with Jay Cloidt
Ergun, Cenk
Essl, Karlheinz
Fuzzy Bunny (Tim Perkis, Chris Brown and Scot Gresham-Lancaster)
Galás, Diamanda
Galindo, Guillermo
Golden, Barbara
Daniel Goode
Gresham-Lancaster, Scot
Grundmann, Heidi
Harmonic, Phil
Harrison, Lou
Horton, Jim
Kwan, David and Antimatter
La Barbara, Joan
Lansky, Paul
Lewis, George
Masaoka, Miya
Mathews, Max
Matmos (Drew Daniels and Martin Schmidt)
Mills College Didgeridu Ensemble
Oliveros, Pauline
Osborn, Ed
Payne, Maggi
Perkis, Tim and Wobbly
Quinn, Doug
Reid, Wendy
Riley, Terry
Rooney, Sean
Rzewski, Frederic
Sagan (Wobbly, Blevin Blectum, J Lesser, Ryan Junell)
Sammon, Kattt and Kenneth Atchley
Sender, Ramon
Shields, Alice
Smith, David
Sonami, Laetitia
Stone, Carl
Stone, Susan
Strange, Allen
Subotnick, Morton
Tcherepnin, Ivan
Trayle, Mark
Yadegari, Shahrokh
Young, La Monte