English
Instrument—Interface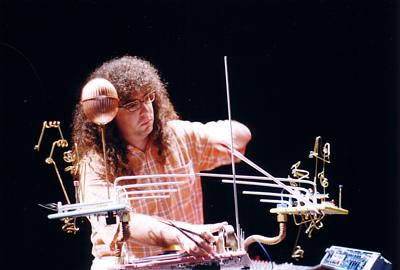 A detailed description of several of Mark Applebaum's self-built instruments (notably the mousetrap and the mouseketier) on which he performs in solo, ensemble and concerto contexts, as well as some considerations on how his non-vernacular composition, trans-idiomatic improvisation and jazz improv activities fit together.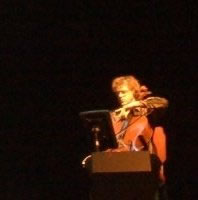 Investigating a method for composers to bypass the normal multi-media method of writing for instruments and fixed sounds and more fully engage the performer in a concrete mode of thought, thereby giving performers and composers an aurally based common ground.

A conversational piece concerning the premier of Bill Thompson's latest work, dismantle for laptop (solo) at the recent Scrapclub event in London.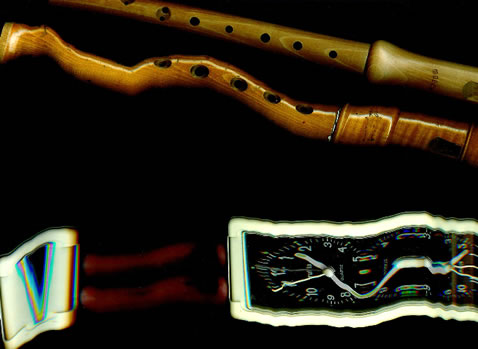 Household technologies, such as portable CD-players and cassette recorders aren't quite state-of-the-art as tools for composition and performance of electroacoustic music. Yet they allow for immediate ways of composing and performing. This is illustrated with examples of pieces made with cassette recorders, and the dance performance Ghetto Blaster Quintet.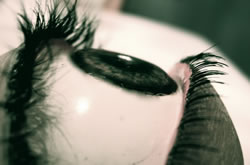 The author describes the audio recording as an agent that displaces and erases the sound-producing body from aural culture. In light of this disappearance, she describes her work in interactive installation, audio recording, video and performance as creative expressions of voice and body in electroacoustic practice.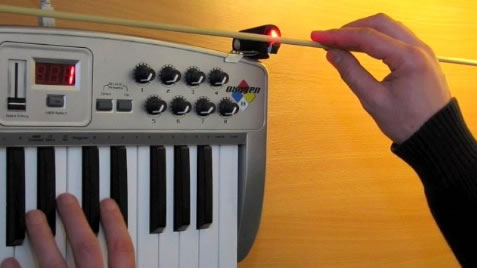 Two controllers are presented, the CyberWhistle and the O-bow, which aim to address detailed aspects of control that are often neglected but important, using a minimalist and robust design approach.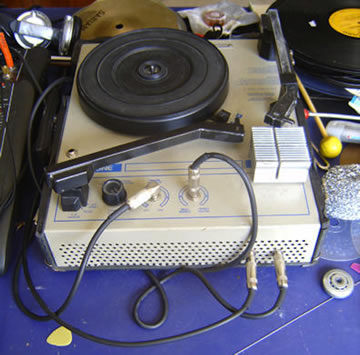 Escaping the bounds of its function, Hansen disseminates the record player. The role is usurped as it appendages are redefined and added to, inviting the creation of acoustic sounds that are processed and reinvented into an electroacoustic fantasy.

Domestic Appliances Project consists of a series of installations dedicated to the explorations of the musical and architectural potential of everyday domestic equipment. Hitherto an installation was realised at the A.S. Rymer auditorium in York, UK, in June 2009.
While interactive music composition and teaching have no direct connection, each practice has provided examples that have helped me to solve problems and approach situations in the other.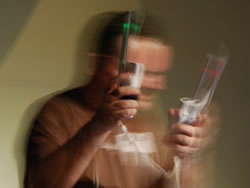 A personal account of working with the Buchla Lightning midi controller and the expansion of the instrument into the "WiGi" system, using Nintendo Wii-motes and the JunXion and LiSa software.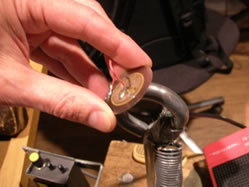 The author's encounters with two simple hand-held devices, self-built piezo disk contact microphone and the inductors, enable anyone to extend infinitely and subtly variable hand movement into gestural movements of electronic sound and instrument making.
Descriptions of and instructions to use phonographs, broken stuff, 8-track cartridges, and FM radio transmitters for composition.
Photo Gallery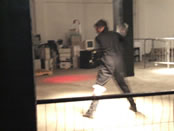 Scrapclub Number 12. Bocking Street Warehouse, London, 21 March 2010.
Columns
[COMMUNITY REPORTS] The First Retrospective of Mexican Electroacoustic Music by Manuel Rocha Iturbide
Other Items
[SONUS.ca]
Works by some authors and/or artists in this issue can be heard in the CEC's online Jukebox for electroacoustics: