Call for Contributions
21.1 Live Coding • 21.2 Conceptual • 22.1 Sound Art • 22.2 Alternative Formats • 23.1 Sound Installation • 23.2 Non-Western Practices
Published by the Canadian Electroacoustic Community (CEC) since 1998, eContact! is an online journal dedicated to the exploration and promotion of the richly diverse discipline of electroacoustic practices.
This freely accessible and media-rich journal is published three times a year, with submission deadlines falling on the 1st of the month prior to publication.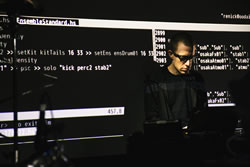 eContact! 21.1 — Take Back the Stage: Live coding, live audiovisual, laptop orchestra…
For many electroacoustic artists, coding and programming are by no means new concepts. However, their manifestation as an aspect of live performance has proven an engaging development over the past decade. Live coding, live audiovisual performance, laptop orchestras (lork) and other live, multidisciplinary configurations and contexts are featured.
Submission deadline: 1 February 2021
Publication: 15 March 2021
Submission Process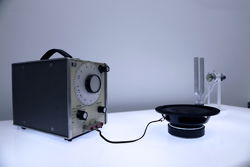 eContact! 21.2 — Conceptual Approaches to Sound-Based Artistic Practices
In contrast to works in which sound materials, gestural characteristics and musical or sonic structures are paramount, the "material" per se in some artists' practice is rather the concept. This inescapably leads to unique works that in many cases demand a rethinking of listening paradigms and presentation formats.
Submission deadline: 1 March 2021
Publication: 15 April 2021
Submission Process
eContact! 22.1 — Sound Art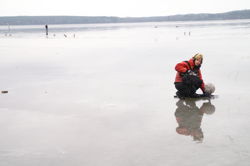 The seeming singularity of the term "sound art" (Klangkunst) is somewhat at odds with the incredibly diverse range of genres, æsthetic perspectives, techniques and media explored by artists in the field. Building on more than a century of practice, contemporary activities encompass sound sculpture, installation and performance, and more.
Submission deadline: 1 April 2021
Publication: 15 May 2021
Submission Process
eContact! 22.2 — Alternative Presentation Formats for Electroacoustic Practices
Reflections on modes of presentation and experience of electroacoustic works and projects that are positioned outside or in a critical relation to the "traditional" — predominantly concert hall-oriented — fixed-media formats of acousmatic and similar practices.
Submission deadline: 1 August 2021
Publication: 15 September 2021
Submission Process
eContact! 23.1 — Sound Installation
Electroacoustic and sound art practices presented in the context of an indoor or outdoor installation or in a site-specific location afford the listener-viewer a completely different temporal experience than concert hall-oriented works. Here, it is possible for individual visitors to tailor or even create their own experience of the work.
Submission deadline: 1 April 2022
Publication: 15 May 2022
Submission Process
eContact! 23.2 — Sound-Based Artistic Practices Outside the Western World
The current state of electroacoustic and sound art scenes outside of the "Western" sphere reflects a predilection for genres such as noise, performance art and intermedia, as well as a widespread culture of software development and shareware. With a focus on the Middle East and South East Asia.
Submission deadline: 1 August 2022
Publication: 15 September 2022
Submission Process
Submission Process
Contributors MUST follow the Submission Guidelines for eContact! and, when preparing their work for submission to the journal, MUST use the article template available at the top of the Guidelines page.
Questions that are not answered here or on the Submission Guidelines page about contributing to eContact! or preparing your submission for the journal can be addressed to the Coordinating Editor, jef chippewa.
Article Formats
In addition to feature articles 1[1. Key articles addressing the theme of the issue, typically 3000–8000 words. See, as an example, this 8400-word article.], brief texts 2[2. Often having a more informal tone than in "feature" content and usually in the 1800–4000 word range. See this 3000-word article.] and interviews 3[3. Length varies, but 2000–8000 words when transcribed would be the norm. See this 3150-word interview.], we welcome submissions of "Artist Galleries" — personal articles about the author's own practice(s) 4[4. These texts must be more substantial and interesting than a copy-paste biography and programme note and are usually 900–1500 words in length. See examples here and here, 1300 and 1100 words, respectively.] that feature a much higher proportion of audio, video and images to text than in other article formats.
While new and/or unpublished materials are preferred, reprints of previously published materials are also possible (eContact! will credit and link to the original publication).
Media
The inclusion of audio and video support documentation, photos, technical diagrammes and sketches is strongly encouraged. Audio and video examples should be submitted in the highest quality possible.
Copyright
The author is responsible for securing all permissions and clearing any copyrights related to the submission, including, but not limited to, texts, audio and video recordings and images (figures, photographs, etc.).
Inclusivity
As with all its projects, the CEC subscribes to the broadest definition of electroacoustics for the journal, which encompasses acousmatic, musique concrète, electronic music, tape music, live electronics, acoustic ecology, soundscape, videomusic, circuit bending, hardware hacking, mixed media, turntablism, generative, glitch and beyond.