English
Sound Out — On the Prairies

Independent / Freelance Writer
By no means a comprehensive inventory, what follows is a cross-section of activities that some Prairie-based (and a few ex-pat) electroacoustic composers, musicians, artists, and organizations have carried out in the past few months, and will carry out in the months to come.
(1.8) sec / 3x3is9 / Winnipeg
December saw the release of 3" CD-R Le garçon qui brille by Gogooo (France) on Winnipeg's (1.8) sec.records. Label-owner and sound artist Chris Bryan (3x3is9) describes the 3" CD-R releases as "more tuneful or playful than [the more] electroacoustic" releases on his label. A live full-length recording is set for release in late spring/early summer, featuring the US quartet of David Gross, (alto saxophone), Steve Roden, (voice, objects, and electronics), Michael T. Bullock, (contrabass), and James Coleman, (theremin). As with many of the releases on (1.8), Bryan will design the packaging. The release will feature photos by the internationally acclaimed Roden, who is also a visual artist. The label is busy with plans into the next year for other upcoming releases. (1.8) sec.records is also a distributor of international record labels including 12K, Raster-Noton, SIRR, and/OAR and others.

3x3is9 has been creating scores for short films lately and plans to launch an online performance involving random flash, PHP events and web coding.

To catch a glimpse of this and to find out more about (1.8) sec.records, visit http://www.1pt8.com.
Blunderspublik / Winnipeg
Blunderspublik aka Curtis Walker performed at the Winnipeg Symphony Orchestra/Telpay New Music Festival, which was recorded by CBC Radio. His album You Are the Best Ever (June 2006), hit the top of the campus/community radio electronic music charts in three cities, and was number 10 on the year's most played CDs on CKUW 95.9 fm in Winnipeg.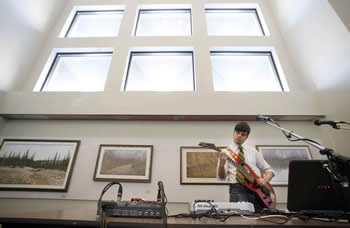 Walker is currently one of the New Artists in New Media at Video Pool Media Arts Centre and is creating five video accompaniments for the above-mentioned album. The Giant Sons album Consonance was re-issued electronically by G7 Welcoming Committee Records and featured electronic additions by Blunderspublik, as well as a remix entitled Pronouncing the Motive for the Dark Over Fields and Foothills.
Dieter Brown (Indian in the Machine) / Saskatoon
Dieter Brown, aka Indian in the Machine, describes his music as chant flute ambience drum electronic earth music. The Saskatoon native flutist is a singer, drummer, drum-maker, and songwriter, and is also a storyteller, educator, photographer, recording artist and writer.He gave a live music performance in February at the Prince Albert Arts Centre in Prince Albert, Saskatchewan, titled The Healing Sounds of Native Flute and Drum. Brown was also the host of Spirit of the Buffalo event in Saskatoon in late February. The event featured 50 tables of artists, healers, environmentalists, health, and energy people sharing information and wares. The event was a celebration of community, health, and the arts.
Carrie Gates / Saskatoon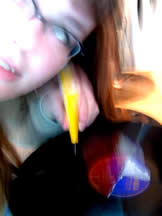 Sound-artist Carrie Gates is co-director of the net label BricoLodge (with Jon Vaughn). The label has released over 20 recordings by artists from Canada, France, US, and Japan. Gates has an upcoming release on Nightpass Handmade Records from the US and she is looking for a place to premiere J + C Feedback Factory, a no-input audio and video mixer collaboration with Jon Vaughn.
Gates will VJ at Eve's Revenge in Saskatoon, May 12. The event is an all-female DJ electronic music event/rave. Says Gates: "VJing has been very fruitful for me lately… I am using analogue video mixers, Max/MSP/Jitter, and Arkaos. I have an assistant VJ in training named Leeane Berger and, I am teaching a series of VJing workshops for youth in Prince Albert through Common Weal Community Arts in April."
Gates's noise/folk/electroacoustic duo Green Gift (with Jon Vaughn) will give a performance at Neutral Ground Art Gallery and Artist Run Centre in Regina, June 2, and she will teach a workshop in contact microphone construction and found object improvisation. From July 12 to 15, Gates will VJ at the three-day outdoor electronic music festival Motion Notion Festival in Edmonton/Evansberg. She currently has a short audio piece showing in Oklahoma City as part of a group audio art show curated by Montréal artist tobias c. van veen. Gates will travel to Detroit in late spring/early summer to study Max/MSP/Jitter with KERO and is setting up a series of independent workshops to take place this summer for sharing skills in the electronic arts (including circuit bending, Max/MSP, VJing, and contact mic construction).
Vinyl Interventions (experimental turntablism and vinyl sculpture).
Carrie Gates' YouTube page (videos from live concerts and Max/MSP/Jitter VJing experiments). Also http://www.myspace.com/thesoundsofcarriegates and http://www.archive.org.
Ken Gregory / Winnipeg
The audio work of Ken Gregory will appear on CD as part of BlackFlash Magazine (volume 24, 2, Saskatoon, spring 2007). You can also hear Gregory's piece Under the influence of ether (excerpt, 1995) as part the book and CD compendium S:ON — Sound in Contemporary Canadian Art, edited by Nicole Gingras (Montréal). The book was published by ARTEXTE Editions.
Gregory, Shawn Pinchbeck and Steve Heimbecker released Sonic Waking in 2006, a recording of a live improvisational performance for a quadrophonic sound system at Send + Receive: A Festival of Sound [001] in 1998. The recording was re-mixed and mastered for stereo compact disc.
To experience a greater spectrum of Gregory's work, Cheap Meat Dreams and Acorns: Ken Gregory since 1993 is a beautifully crafted book and audio CD that was published by Plugin Editions in 2004. Cheap Meat Dreams… documents the magnitude of Gregory's work and was a companion piece to the exhibition of the same name.
Guidewire / Regina
Sound artist/musician/multimedia fiend Guidewire will give a performance at 8 pm on March 31 at the Neutral Ground Art Gallery and Artist Run Centre in Regina. Involving multichannel live soundscapes and music, the artist will use Ableton Live and some elements of Pure Data. The event is free. Guidewire will give a musical performance at The Club in the Exchange Cultural Centre in Regina on April 5. Guidewire's independent CD release Psycho Acoustic Algorhythms can purchased via his website.
Garth Hardy / Winnipeg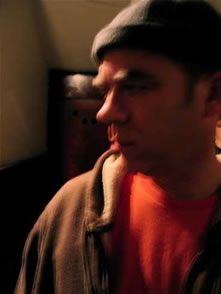 Composer Garth Hardy began the New Year with a performance and broadcast of his work and I thought Guy Debord was dead. The event was part of Art's Birthday celebrations at Club Desire. The celebrations were hosted by Video Pool Artist Run Centre in Winnipeg.
Steve Heimbecker / Saskatchewan-Montréal
Saskatchewan-born, Montréal-based sound artist Steve Heimbecker started 2007 off with the presentation of two surround sound concerts, featuring three Songs of Place compositions for Art's Birthday: The 100th Anniversary of Radio: network vs. propaganda at the Western Front in Vancouver. http://front.bc.ca/mediaarts/events/3133 and http://artsbirthday.net/2007/WF/
Heimbecker will present his video and surround sound portrait series Songs of Place at the Kitchener Waterloo Art Gallery (KWAG), March 30 to May 7, curated by Allan Mackay. The final week of the exhibition will also include the presentation of a new Songs of Place portrait of Kitchener Waterloo. It will also be presented in quadraphonic concert at the Open Ears Festival. Invited by Peter Hatch, Heimbecker will serve as Artist in Residence at the Open Ears Festival in Kitchener Waterloo, April 16–30.
As part of Transit/Transitions, an exhibition curated by Renee Baert, organized by Groupe Molior, Heimbecker will present POD, an installation of 2880 LEDs that create a four-dimensional light representation of the wave patterns of the wind. Transit/Transitions takes place at the Centro Cultural PUCP in Lima, Peru, April 11 to May 7. POD is part of the Wind Array Cascade Machine series.
The 24th edition of the Festival International musique actuelle Victoriaville (FIMAV) in Québec takes place May 17–21. Heimbecker is part of the collaborative site-specific project, Victoriaville matière sonore, (Québec, Canada, USA, Spain). The group will perform the sound compositions created by them during the festival.
Heimbecker will embark on another artist residency this June as part of The Art of Immersive Soundscapes 2 — AIS2 Intersections: Soundscapes and Music, Soundscapes and Identity at the summer Institute, University of Regina, Saskatchewan.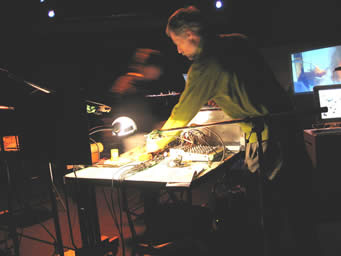 For more information on Steve Heimbecker's catalogue of work, you can read BlackFlash Magazine (volume 24, 2, Saskatoon, Spring 2007), http://www.blackflash.ca and visit http://www3.sympatico.ca/qubeassm.
Laura Kavanaugh, Ian Burse / Calgary / various locations, Canada
Laura Kavanaugh and Ian Burse will present their audio/video installation Fortress of History, a playful infiltration of online galleries, at the Art Gallery of Greater Victoria, March 22 to May 13. The opening performance for this work is on March 22. The duo will take residence at the Western Front in Vancouver to work on Operator, from April 4–28. During their residency, they will create opera using overheard cell-phone conversations as text and Max-controlled piano as orchestra. They will give a performance on April 27. To find out more about the past and future works of Kavanaugh and Burse, visit http://www.instantplaces.ca/windsor/windsor_1.html and http://www.instantplaces.ca.
Mannlicher Carcano / Los Angeles-Winnipeg-Guelph
Founded in Winnipeg over 15 years, ago, Mannlicher Carcano gave a live performance in Los Angeles earlier this year. Visit The Day the Music Died for details and links to the MP3s of the performance, http://dougharvey.blogspot.com. The trio is planning the release of a vinyl compilation of one-minute fragments titled Corps, culled from one year's worth of radio shows. Their long-running, cross-continental collaborative performances can be heard every Saturday on CFRU in Guelph. Gogo Godot of the group spent Art's Birthday making sound live on UMFM 101.5 fm in Winnipeg on January 20, as part of their celebrations for the occasion.
Michael Matthews / Winnipeg
Composer Michael Matthews completed a residence in late February at the Centro Mexicano para la Música y las Artes Sonoras (CMMAS) in Morelia, Mexico.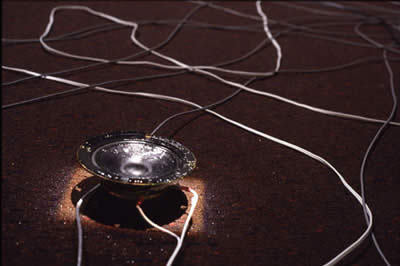 During his stay he wrote a piece, commissioned by CMMAS, for piano and tape for pianist Duane Cochran. Matthews will premier the work in Mexico City later this year. More information.
Ellen Moffat / Saskatoon
Saskatoon-based multimedia artist Ellen Moffat describes her work The Phoneme Project, as "an ongoing exploration of the spatialization and visualization of sound using phonemes of the International Phonetic Alphabet as linguistic notes and as authority." She will take residency at Oboro artist centre in Montréal, April 30 to May 13, where she will continue her work using phonemes. From June 9–23, she will take part in The Art of Immersive Soundscapes 2 at the University of Regina. Moffat has released and taken part in three CDs: "Sound, Site, Silence," BlackFlash Magazine (volume 24, 2, Saskatoon, spring 2007), "Fault Lines," (MacKenzie Art Gallery, 2006), and "Blow," (Mendel Art Gallery, 2004). For more information on her work visit http://www.ellenmoffat.ca/phoneme.html and http://www.ellenmoffat.ca.
Diana McIntosh / Winnipeg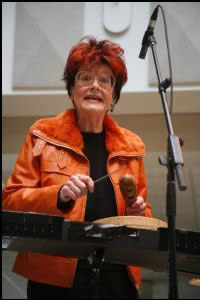 On October 6, 2006, at the University of Manitoba Faculty of Music, composer/pianist Diana McIntosh gave a noon-hour solo concert that included Of Experimental Fruit, by Micheline Roi, and her own theatre piece, Sampling the Communication Parameters in the Ambience of Structural Phrasing and Dynamics in Contemporary Music. This work requires two plants in the audience, and she was able to involve two students for this. On November 23, in a GroundSwell concert curated by McIntosh, she presented her work The Arm of Dionysus for violin and tape. The work was given its western Canada premiere by Toronto violinist Parmela Attariwala.
On January 23, 2007 McIntosh produced and performed in her third Canadian Music Centre (CMC) New Music in New Places / Nouvelles Musiques en Nouvelles Espaces concert in the Students' Cafeteria at College univèrsitaire de Saint-Boniface, Winnipeg. She was joined by Karin Erhardt, (cello), and Vincent Ellin, (bassoon). The works of seven Canadian composers were included: Jim Hiscott, Milton Barnes, Murray Adaskin, Peter Paul Koprowski, Peter Hatch, Raymond Luedeke and McIntosh. As required by the school, McIntosh gave all her introductions and program notes in French. Included in the program was the premiere of her Fancy Free (aka Pensés enfantines) for cello, light percussion and spoken text — also spoken in French on this occasion. The text is from Antoine de St. Exupery's Le Petit Prince.
In February, McIntosh traveled to San Francisco to perform two of her one-woman theatrical works: Solitary Climb and Beryl Markham — Flying West With the Night. More information about Diana McIntosh.
not half / Winnipeg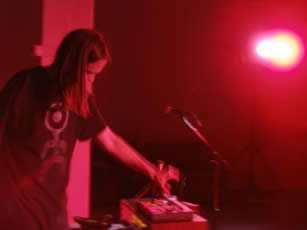 Winnipeg-based not half will give a performance on March 23 at The Graffiti Gallery in Winnipeg. His brand of concrete/acousmatic/tape music/IDM can be heard on a split MP3 CD with DJ Jesus Christ and can be accessed here http://www.dtrashrecords.com, and via his own CD-R label Dimetrodon Recordings. The celebrated experimental electronic label Sublight Records of Winnipeg will release Radioactive Monster Cats from Planet XLG-5 by not half on May 28. You can find a detailed artist discography.
Shawn Pinchbeck / Edmonton
Electroacoustic composer and media artist Shawn Pinchbeck gave a performance at the opening ceremonies of the Edmonton Silver Skate Festival on February 17. The Edmonton-based artist performed as part of the Birmingham Electroacoustic Sound Theatre's series of concerts at the University of Birmingham in early March, in Birmingham, UK. Pinchbeck, who is a lecturer in topics related to Sound Art, Interactivity and Electroacoustics at the Estonian Academy of Arts, Tallinn, Estonia and at the University of Alberta, describes his recent works as "varied … many including interactive audio installations, CD recordings, multi-media, interactive audio and video performances, film soundtracks and software design." In the last year, Pinchbeck has presented work in the US, Canada, Spain, Estonia, and the UK.
Jacques Poulin-Denis / Saskatoon
The Dead Angles project, created by Saskatoon-born, Montréal-based composer Jacques Poulin-Denis and Mélanie Demers (dance) will be presented at the Coursives Festival in Rennes, France, March 22. It will also be presented at the Tangeante Theatre in Montréal in April. A solo version of the project was presented at The Dance Round Table festival in Tokyo, Japan, in February of this year.
Jacques is a dancer and music composer for the Dandelion Dance Theater based in San Francisco. In February, the group performed their piece Anicca to sold out audiences at The Dell Arte Theater in Blue Lake, California.
Jacques is currently composing the sound score for the theatre production Les Escaliers du Sacré-Coeur, which will be presented at the Prospero Theatre in Montréal, from April 20 to May 6. Poulin-Denis and Nicolas Bernier composed the music for Étude #3 pour cordes et poulies, the most recent work by Montréal dance company O Vertigo. The piece will premiere March 8–10. The Ekumen website will release the soundtrack on compact disc.
Bernier and Poulin-Denis also composed the soundtrack for the theatre production Deux Frères presented in Saskatoon by La troupe du jour, in February.
Borisa Sabljic / Winnipeg
Congratulations to Borisa Sabljic, the winner of CMC Prairie Regions Emerging Composer Competition 2007. The winning work, Deliverance, was performed at the Winnipeg Symphony Orchestra /TelPay New Music Festival in Winnipeg in February. The program also featured works by composers Nicole Lizée, Paul Frehner, and Tansy Davies. The WSO was joined by featured musicians Sasha Boychuk, (saxophone), and P-Love, (turntables).
Örjan Sandred / Winnipeg
Örjan Sandred's work Amanzule Voices for cello and live-electronics will be premiered on the GroundSwell new music concert series on March 20. Featuring cellist Yuri Hooker, the concert will take place at the University of Winnipeg, Eckhardt-Gramatté Hall at 8 pm. For tickets to the concert visit http://www.gswell.ca.
Send + Receive / Winnipeg
Send + Receive: A Festival of Sound version 9 will take place this spring in Winnipeg from May 8–13. Featuring current and newly emerging areas of investigation in a variety of forms, the festival will include live performance, radio, web-based projects, Internet streaming, sound poetry, installations, film and video screenings, workshops, and panel discussions. Be sure to visit http://www.sendandreceive.org and http://www.myspace.com/sendandreceive for up-to-date information.
Other Articles by the Author
Print
"Between Sounds and Abstractions." Response to Catherine Béchard and Sabin Hudon's (Québec) acoustic work of same name. Critical Distance Vol. 11/2 (Winter 2006). aceartinc.
"Send + Receive: A Festival of Sound [version 8]." Review in Once Upon A Poolside, Poolside 2005 (Winnipeg: Video Pool Media Arts Centre, January 2006), pp. 51–57.
Video Pool Media Arts Centre annual media arts anthology, Once Upon A Poolside: Send + Receive: A Festival of Sound artist profile, January 2006
"Christof Migone — Sound Voice Perform." Book review, Musicworks magazine #93 (Fall 2005).
"High-quality High-tech: MUTEK — Music, Sound and New Technologies." Festival review, Musicworks magazine #93 (Fall 2005).
"Unraveling Sound Cultures." Book review of Audio Culture: Readings in Modern Music (Christoph Cox and Daniel Warner, eds.). Musicworks magazine #92 (Summer 2005).
Online
"Send + Receive: A Festival of Sound [version 8]." Review in eContact! 9.2 — Canadian Regions: The Prairies (March 2007). Canadian Electroacoustic Community. Orig. pub. in Poolside 2005 (see above).