music for voice [personal recollections]
part one: the solo vocal works : trilogy
trilogy is in three parts, composed over a period of almost twenty years. penetrations VII - now played as the second piece in the trilogy - was composed first. This was in Berlin, in 1972. It existed first as penetrations VI, for actress-singer, chamber ensemble, lights and tape. This version is published by Boosey & Hawkes, NY. A few years later I extracted from it only the vocal and tape parts, plus the lights. This version is titled penetrations VII and is published by SHELAN.
At either side of this second piece, I wrote ekphonesis V, in 1979 and then ekphonesis VI, in 1988, to finish the cycle.
trilogy [solo voice, tape, electronic extensions]
ekphonesis V (1979-I)
(memories, childhood, autobiographical-it was written during the International Year of the Child-Unesco)
[text: alcides lanza- multilingual, invented languages]
penetrations VII (1972-III)
(memories of all humanity, impersonal-acted by a child-woman)
[text: a. lanza-English, invented languages]
ekphonesis VI (1988-I)
(autobiographical, my own memories in Canada-fate of the world-destruction- vocal participation of our own children)
[text: a. lanza; also Yeats, Ruebsaat, Frost- multilingual]
My main intention in writing these vocal pieces was to be able to create a situation where the singer would be accompanied only by the tape and [digital] signal processing. It was clear that there should be no piano or "harmonized" type of accompaniment. The technologies varied greatly from that available in 1972 to those of more recent times. However, there was always a common approach to fragmentation and re-organization of sung or spoken vocal materials, always extracted from syllabic or phonemic divisions of words or sentences. The private studio I set up in Berlin in 1972 - two Revox A77 tape recorders, Uher mixer, a Synthi AKS voltage controlled synthesizer and MD421 Sennheiser microphones - defined the approach at that time. The main tools were razor blades, editing block, mixer and the potential for processing the sound inside the Synthi AKS - including filtering, Ring Modulation, creating new envelopes, looping and sequencing. On the other hand, when the cycle ended in 1988, the technological repertoire at the SHELAN studio or at the McGill EMS permitted me to achieve micro-fragmentation of phonemic elements via sampling [Akai samplers, S900 and S1000], as did the digital editing power of Sound Designer II.
Without trying to make this essay into a technology treatise, perhaps it will suffice to mention that some parallel experimentation went into the making of my first choral piece [sensors IV [1983-V] , for which I used the Synclavier II Digital Synthesizer in the McGill EMS, with its own monophonic sampling system [at 50KHz], and its tremendous potential for re-synthesis, done mostly using Fast Fourier Transform and Spectral analysis of very small fragments of sounds, in the area of 200 ms. [for the readers who might be interested, an extended analysis of the technical approach used for the creation of the tape part for sensors IV is published in the Proceedings of the ICMC conference, Vancouver, 1985; pages 207-212].
The influence of "poésie concrète", and the work of writers like Baudelaire, Mallarmi, Julio Cortazar and James Joyce has undoubtedly influenced my approach to the treatment of text in music. My article on "Lettrism", for example, includes the following: '...from Guillaume Apollinaire, Kurt Schwitters and Carlo Carra we detect influences in the domain of segmentation of phrases, words and phonemes, with excursions into multi-lingualism. Joyce and Mallarmé were influential because they spoke of "lingua mutantis", of languages in evolution and of writing with syntactic, semantic and ortographical changes applied to the conventional French or English languages.' ["lettrism and concret poetry: their influences in the evolution of electroacoustic music", in the proceedings of CEC, Banff, 1989, pages 135-139.]
Only briefly I can touch on another significant aspect of my method of composition: the "music" I laboriously created in the studio environment, with intriguing "repeating" processes, unreal modulations, reversal of playback direction [analog or digital], extreme rates of enunciation produced artificially, and unusual language mixtures, I intentionally transported to the realm of "do it in real time" as performance practice.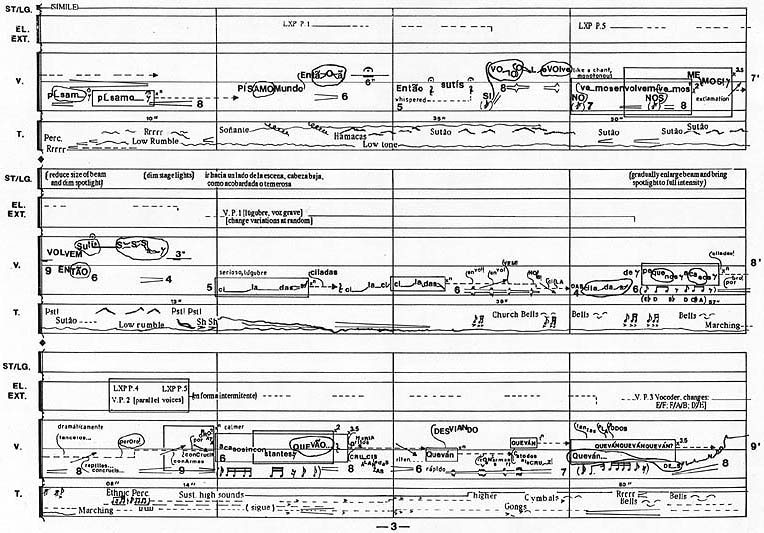 Looking at the scores immediately establishes the existence of a parallel strata of "electronic extensions" [expression appearing in my scores since 1968, with ekphonesis II]. These extensions [via microphones and outboard signal processors] allowed the voice to be picked up, amplified, treated and bounced back to the audience, all realized with the assistance of a technician. But, the writing for the voice itself on many situations asks the performer to "do" with her own voice "modulations" [like emphasizing certain harmonics], "repeats" [called by me "phony feed-back effects" and represented with the following symbol: , using multi-lingualism or pronouncing words "backwards", plus the more usual "boca chiusa" [closed mouth] and other types of imitations [speaking as a child, or as a mute person trying to speak]. 'One area which deserves to be explored further is the construction of new syntactic units derived from re-synthesis of fragmented phonemes, where a hierarchical system could be established with a family of roles as nouns, verbs or adverbs follow or precede each other. Thematic concatenation and elaboration offer a good example of musical roles at play within their own language in classical music. I believe that similar systems of dependence could be derived from a systematic approach to the synthesis of speech or sung materials valid (as in the case of the classical example) within each composition. Timbre, rhythm and pitch recognition would still be necessary to establish links. Any language system makes extensive use of memory and recognition. The reiteration of sonic elements - repetition- is essential to the understanding of music or of language. An elaboration of a vocal fragment where the initial semantic content has diminished so much that a logical association with the original meaning is lost, could acquire a different meaning either assigned by the composer - when the listener will most likely make a predictable association - or imagined by the public as a result of random connection with personal memories of the individual.' ["lettrism and concret poetry: their influences in the evolution of electroacoustic music", in the proceedings of CEC, Banff, 1989, pages 135-139 ]
The earlier pieces used simple tape echoes [tape feed-back] for certain echo effects, while more recent ones, like ekphonesis VI [or vôo] rely on modern technology utilizing digital delay units [Lexicon LXP15] and vocal processors [Roland VP70 or Vocalist by Digitech, a vocal signal processor].
Languages used: English, Spanish, French and invented languages. Semantic content: the writing keeps comprehensibility of the sung text from total understanding [high semantic content], to very little or no semantic content at all. This is accomplished by the splitting of words and phonemes [in real time and/or electronically], the use of special performance techniques and the addition of DSP.
About the compositions:
Memory is a very particular element in music in general, and certainly in my pieces. By "memory" I meant books, records, CDs, echoes, computer diskettes: all these are different manifestations of memories. For example, in ekphonesis V, the whole work is based on "memory" - the composer's memory, but also the performer's, and to some extent, the audience's memories. All play a part in assigning possible meanings to what is apparently perceived. Due to this phenomena a "new" meaning could at times be perceived by the individual listener.
The process could be described as this: the initial meaning of the recorded fragment [or the words inscribed in the score] is "modulated" or "changed" by studio techniques [see above] or by the type of writing that I use. During performance, the specified performance practices will establish another level of modification of the initial meaning [altering the semantic content a second time]. Also during performance the audience might "believe" that they have heard this or that other word [assigning a possible new meaning to the word or phrase].
ekphonesis V: memories of my own childhood; grandmother [abuela], my guardian, Velmiro Ayala Gauna, my uncle, and the short stories written by him. The premise of the piece was, "what if the soloist could enter the brain of the composer"? She would encounter there all my memories - but still she is having her own - all in different stages of deterioration. The use of the flashlight by the soloist - specified in the score -, is an echo of the "teatro de lo esencial" [some sort of minimal theatrical style created by my uncle: on a stage of the 'marionetas' type, only the hands of the actors were seen and lit. The rest was all dark and black]. Also, inside our heads must be a blackout, so the singer could use some light... This work is very autobiographical. Musical phrases, acting as quasi leitmotivs, like "mama, cuinteme algo" [Mother, tell me something], "niños" [children], "abuela" [grandmother], "memorias latentes y líquidas" [latent and liquid memories], "libros, bibliotecas" [books, libraries] are very important icons in this piece. The title, ekphonesis, is a Greek word meaning 'speaking aloud, telling the truth...'.
penetrations VII: refers to the memories of all humanity, through all times - memories [history] which are not very nice, are received or perceived by this child-woman all at once, almost destroying her. After losing her ability to speak - she tries to speak, does it as a mute trying to elicit vocal sounds - she comes back to life "....as a child...a child, with memories". This child - less spoiled than adults - signifies hope.
ekphonesis VI: since ekphonesis V - written almost 10 years earlier - was autobiographical, I decided to base again on my memories, this time in Canada, with my own family - blending those memories with destiny or the fate of humanity, via the poems of Norbert Ruebsaat, Robert Frost and W. B. Yeats. In this sense the work turns political - by political I mean my concern with humanity, with things like where are we going? and how it is all going to end...?
Earlier I had always written my own words to set to music- perhaps it can be explained this way: when I was a student, still at the Di Tella Institute in Buenos Aires, Alberto Ginastera, our composition teacher, requested that I read Leopoldo Lugones, and other Spanish poets before I wrote music with lyrics. I did, and not finding anything that would trigger my musical interest, decided to create my own lyrics. I felt it was rather difficult for me to create music to go with a pre-existing poem, written by someone else, having its own rhythm and form...
trilogy was premiered at Pollack Concert Hall, Montreal, April 19, 1988. The premiere of penetrations VI took place at the Donaueschingen Festival, Germany, October 20, 1972 and as penetrations VII, at the Fülkingen concert series, Stockholm, on March 23, 1973. ekphonesis V was premiered during the Pan-American Festival of Contemporary Music, UCSD, San Diego, California, on April 15, 1982. Actress-singer Meg Sheppard did all the premiere performances and she has presented trilogy on many occasions in Europe, North and South America. More than anything these three pieces are about children. All three pieces were written for Meg Sheppard and are dedicated to her. She is undoubtedly the most phenomenal vehicle for the rendition of these acted vocal compositions. She has premiered, recorded and performed trilogy frequently and in many countries. Her theatrical experience and phenomenal memory are essential to these works. It must be mentioned here that Meg Sheppard was also the catalyst for my changing from writing my own words to using someone else's. She chose the poems by Ruebsaat, Frost and Yeats, as she did for some other pieces of mine outside the trilogy [mainly ...the freedom of silence and ...there is a way to sing it...]. In short, I recognize that this type of close collaboration is practically co-composing.
Thanks, gracias, merci, Meg!

alcides lanza [edited by Meg Sheppard]
19 iii 1998
Discography

trilogy: SHELAN eSp 9201CD
vôo : SHELAN eSp 9601CD
...there is a way to sing it...: Electroacoustic Music: Anthology of Canadian Music, RCI, ACM 37 CD 1-4
To follow:
part two: works for choir with computer tape
part three: other vocal pieces: ekphonesis II - the freedom of silence...