English
"108:Walking through Tokyo at the turn of the century"
"108:Walking through Tokyo at the turn of the century" (50:00)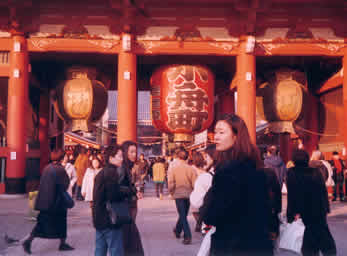 A soundscape by Sarah Peebles, recorded December, 1999 - January, 2000 Commissioned by Radio-Canada for the radio program, L'espace du son, broadcast on "la Chaîne Culturelle", produced by Mario Gauthier. Premiered February 3, 2001. Remastered at Radio-Canada, November 16, 2001 (Denis Frenette, engineer).
In creating this "sound walk" through Tokyo, I wanted to compose a sonic portrait which reflected everyday experiences in this city, yet which also included some special events. I planned to record new years eve, food vendors' cries at Tokyo's "Ame Yoko" (pronounced "ahmé yohkoh") and train station music ahead of time; the rest was spontaneous. Everything throughout the fifty minutes flows in the order in which it was recorded between December 26th, 1999 and January 3, 2000 (with the exception of the New Years' dawn kendo practice and subsequent street car ride, recorded Jan 3, 1986).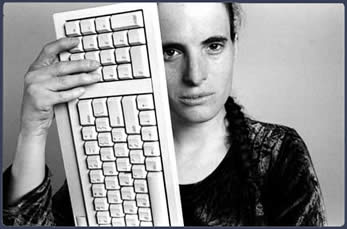 Back in Canada, when I assessed and contemplated the sonic environment within these recordings, I could not separate these sounds from my physical experience of having recorded them. But what I found (unconsciously) was a periodicity inherent in much of the material, and I could feel this periodicity in my body, via my memory ˜ and my intuition guided me towards the space between things. In Tokyo, this space catches my ear as much as does the character of the sounds around me, because the ambient environmnet of this megapolis is especially active and compelling, compared to my home, Toronto. The space between sounds in Tokyo can be (physically) spacial, periodic (having periodicity) or cyclical, or all of these. Music emanating from mini-speakers infront of shops comes into and out of focus as one walks toward the pre-recorded preacher on the way to Shinjuku station. Electronic wicket beeps float through the station, as do the wide variety of mini-tunes indicating train arrivals and departures which accompany one's daily commute from station to station. Even the pachinko (Japanese pinball) parlour's wall of sound reveals distinct songs, shapes, reoccuring themes and momentary spaces, when examined closely through the looking glass of digital signal processing. Winter evenings in Tokyo are graced by the distant looping song of the baked sweet potato vendor making his rounds, and the periodic strike of wooden clappers (clave) accompanying "Put out your fires!" as the neighborhood foot patrol winds through the streets ˜ a sound very nearly but not quite yet vanished from Japan's changing sound scape. And every year the new year is greeted with remarkable sounds in the stillness of night: all temple bells ring between 12:00-12:30 A.M., each struck 108 times (representing 108 human desires which may lead to sin, sort of like purging one of temptation for the year), music is played and bonfires blaze. At 5 A.M., martial arts enthusiasts gather for "kangeiko" (pronounced "kangaykoh") New Years' dawn practice, their kendo cries the only discernable sound during Tokyo's one truly quiet hour.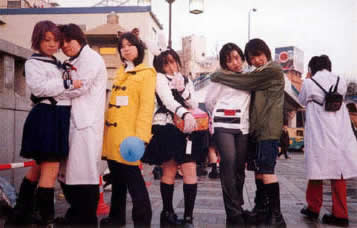 Sounds in Japan accompany the mundane and the milestones. These sounds and the space between them are rich in meaning and character.
"108:Walking through Tokyo at the turn ofthe century" will be released on Juxiang Music ("Post Concrète"; http://www.juxiang.com) as an enhanced CD with photos of Tokyo's architecture, spaces and life by Toronto-based artist, Christie Pearson in 2002. Much thanks to Mario Gauthier, and also Tsutomu Sudo, Robert Cruickshank and Garnet Willis for technical assistance and advise.
L'espace du son web site (Note: this programme has been cancelled as of July, 2001)
More information about Peebles is at S t u d i o * E x c e l o, time-based art with a creamy filling
http://www.interlog.com/~speeb email: speeb@interlog.com
---
108 movements (I.D.s on the CD-R are slightly different)
1. 0:00 intro (processed train rail whines) and "fast kitchen" saleslady 2. 6:04 pre-recorded evangelist 3. 8:11 multiple evangelists 4. 9:20 coins at Shinjuku station 5. 11:04 beeps at Shinjuku station 6. 12:14 train approaching, in Shinjuku station 7. 12:33 train rides, Sobu line 8. 20:12 video arcade, Yotsuya area - extrait audio / audio snapshot 9. 22:44 pachinko, Yotsuya area 10. 29:41 Nippori bells, Nishi Nippori temple area 11. 38:00 kendo, Japan College of Physical Education, dawn 12. 39:55 streetcar (Setagaya-sen), Shimokitazawa sta. 13. 41:36 merchants (criers), Yoko Ame 14. 46:44 extro (processed train rail whines and pachinko, bell)
---
Sarah Peebles (b. 1964, Minnesota, U.S.A.) has resided in Toronto, Canada, since 1990, where she composes, performs, and broadcasts new music. Her training includes B.A. in composition from the University of Michigan School of Music (Ann Arbor, 1988), traditional and contemporary Japanese music studies at Toho Gakuen School of Music as well as with various independant groups in Tokyo, Japan for extended periods between 1985 and 1993; and, Max and Macintosh programming skills through residencies and workshops at Toronto's InterAccess electronic media centre. Peebles integrates sounds gathered from natural habitats and cityscapes in North America and Japan - which she manipulates on the fly via powerbook with Max and internal sampler programming - into improvisations, stereo and 8-channel spacialised compositions, radio works, mixed media performances, and film/video works. She also draws upon the sustained tones of the shô, the Japanese mouth-organ noted for its unique timbre and tendency to 'throw' sound in unexpected ways.