English
Interview with Halim El Dabh, Egyptian Composer
"… like a sculptor, taking chunks of sound and chiselling them into something beautiful"
Interview conducted by Bob Gluck on 23 May 2002 and 9 October 2005 by telephone, and 21 January 2006 in New York City. Originally published in Journal SEAMUS in 2007. Another version of this interview was published at the EMF Institute.
Halim El‑Dabh (*1921) is an Egyptian-born educator and composer of instrumental and electronic music and epic theatrical works. He came to the United States in 1950. In the mid-1950s, El‑Dabh met Otto Luening and Vladimir Ussachevsky, who encouraged him to come to Columbia University, where the new Columbia-Princeton Electronic Music Center was soon to open and where he remained until 1961. There he composed his best-known work, the electronic drama Leiyla and the Poet. He then spent several years in Africa and eventually returned to the United States where he taught for many years at Howard University and Kent State University, in Ohio. Now in his 90s, El‑Dabh gives live electronic music concerts all around the world.
Egypt in the 1930s and 1940s
[Bob Gluck] Tell us about your early musical life.
[Halim El-Dabh] The Egyptian King, Faud, was a musician. He played the lute. In 1932, the King invited everyone in the world who was involved with music to an international celebration in Cairo, the Congress of Arabic Music. Béla Bartók and Paul Hindemith came. So did Henry Farmer, and many others from Sudan and neighbouring countries Libya, Morocco, Tunis, as well as from Europe, to play and record. The celebration included many different ethnic groups, cultures and styles… My oldest brother, who was 20 years older than me, brought me with him. I was eleven years old. The music was recorded, and this was the first time I saw wire recording. The recordings are archived in Egypt and in Belgium. That year, I began to see myself as a musician. I played drums and I wrote a piece for piano.
You have a reputation for integrating traditional Egyptian and African music with Western approaches to composition. Was this an innovation in Egypt?
Western music was played all over in Egypt in the 1930s and 1940s. Jazz musicians were playing on the beach of Alexandria in 1938. Egypt was seen as a hub for the La Scala Opera. In the 1940s, European musicians came every year, because they loved the sun in Egypt. The Berlin Philharmonic used to come here. Composer Yusuf Grace was bringing together Egyptian and Western influences in the 1930s. Some of the movie composers were also doing this.
I listened to Arnold Schoenberg's Pierrot Lunaire, which I first heard on gramophone record, and Stravinsky's Firebird and The Rite of Spring. I discovered traditional Egyptian music and learned that it had elements of drama and advanced instrumental techniques, such as the imitation of the human voice or animal sounds. I played drums and when we didn't have drums, pots and pans and noisemakers. I used to play tone clusters on the strings inside my brother's piano and I composed my first piano piece, called Misriyaat, in which I used my hands in various unorthodox ways to achieve certain unique sounds from the piano.
You yourself composed music for film, yes?
In 1946, Cairo was the hub for Indian movies. When I was in agricultural school, I was "kidnapped" to compose music for movies. [Egyptian film director] Hussein [Helmy] used to send a lorry to pick me up from work, saying "we need you," and I went and composed music for movies. Azhar wa Ashwak (Roses and Thorns) was my first movie score. The director juxtaposed images of the lead actors over pictures of my hands playing piano.
How were you exposed to Egyptian music?
After graduating from Fouad I University (now called Cairo University) in 1945 with a Bachelor of Science degree in agricultural engineering, I became an agricultural consultant. My company would send me out to the field to map out plans for large farms, figuring out what they should plant. I would leave people behind to do the work and then I would travel through the villages, where I heard traditional music, dance and religious ceremonies.
Early Musical Influences and First Compositions
When did you begin to see your life's work as a composer?
In 1942, I won the first prize for composition at the Cairo Opera house. When I completed It is Dark and Damp on the Front in 1949, a Belgian critic, A.J. Patry declared me to be an international composer. Then I had everybody calling me. Overnight, my life changed and there was much stress and excitement. All of the sudden the world seemed to be saying: "Look at me!" Up to that time, I never thought of myself as a composer. I was doing my work as an agricultural consultant and composing music just for myself.
Your work includes many African influences, not just Egyptian.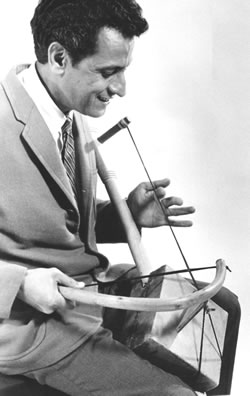 I had visited Sudan and Uganda as a child. During the 1940s, I became interested in the work of composer Yusuf Greiss, who brought together Egyptian and Western influences. In 1959, after nearly a decade in the United States, I returned to Egypt to compose music for Son et lumière (Sound and Light), the show that is shown every night at the Pyramids in Giza, sponsored by the Egyptian government under President Gamal Abdel Nasser.
I felt like I needed to go to Ethiopia. I felt that there was some hidden kind of energy that I didn't understand. I never thought of it until I arrived in the West, and then my whole vision of myself changed. In 1962, I received a Rockefeller grant to study Ethiopian music, especially of the Ethiopian church. As part of this grant, I travelled to Greece and Sudan in 1962, Ethiopia and Eritrea that year and the next, and then back to Greece. Soon after, I travelled to French-speaking West Africa in 1967, and in the 1970s, Nigeria, Ghana, Morocco, Guinea, Sudan and the Congo, then called Zaire. I have visited a total of fifteen African countries. Discovering the continent as a whole, something that I only really came to fully appreciate after spending time in New York, was like a revelation. I explored the relationships between people and their music.
When were you first exposed to electronic music?
In Egypt, there was nobody yet working with electronic sounds. But I noticed that traditional musicians altered the sounds and timbre of their instruments. This led me to begin altering and transforming sounds. One day in 1944, my friend Kamal Iskander and I borrowed a wire recorder from the Middle East Radio Station in Cairo and attended a traditional women's ritual called the Zār ceremony, in which women chant with various vocal timbres and intensities in order to call spirits from other worlds. We had to sneak in with our heads covered like the women, since men were not allowed in. I recorded the music and brought the recording back to the radio station and experimented with modulating the recorded sounds. I emphasized the harmonics of the sound by removing the fundamental tones and changing the reverberation and echo by recording in a space with movable walls. I did some of this using voltage controlled devices. It was not easy to do. I didn't think of it as electronic music, but just as an experience. I called the piece Ta'abir al-Zaar (The Expression of Zaar). A short version of it has become known as Wire Recorder Piece. 1[1. A short version of the piece, considered by some to be the first example of electronic music, was featured in The Wire 277 (March 2007) and can be heard on their website.] I was just ecstatic about sounds.
Arriving in New York
You came to the United States on a Fulbright Fellowship. What was it like to arrive in this country?
When I came to the United States in 1950, it was overwhelming. I first went to study English in Denver and then to the Aspen Music Festival, where I met Igor Stravinsky and became his assistant for the summer. That same year, I went to Albuquerque and spent a year in graduate studies at the University of New Mexico. I briefly studied with Ernst Krenek in the Spring of 1951. During the Summers of 1951 and '52, I studied at Tanglewood with Aaron Copland, in 1951, and in 1952, Irving Fine. I had some additional studies with Luigi Dallapiccola and Leonard Bernstein. Fine guided me to two colleges in Boston. I completed a degree in composition at the New England Conservatory in 1953, studying with Francis Judd Cooke and then a Master of Fine Arts at Brandeis University, in 1954. By 1957, it was time to go to New York City. New York felt like home right away.
I loved New York. I knew Paris, but it never seeped into my blood. The city opened its arms to me and it was just incredible. The music publisher Edward B. Marks gave me the keys to his family's penthouse. I met Marilyn Monroe at a party and rode the subway as often as I could just to hear the screeches of the wheels against the tracks. The sounds inspired me and I considered them to be musical elements that could be manipulated and transformed. It was on the subway in 1959 that I met Edgard Varèse, and it turned out that he also enjoyed these sounds.
What moved you to begin to create large theatrical and operatic works?
The monumental work happened in New York. Within two weeks of arriving in New York City, I received a commission to compose a work for Martha Graham. She didn't feel that it could be ready on time, so instead I began a much larger work for her that would be performed at a theatre on Broadway in 1958. The result was Clytemnestra, which kept growing until it became a two-hour ballet dance drama with singers. Clytemnestra started getting bigger and bigger from the feeling of the hugeness of New York.
How was it that you came to the Columbia-Princeton Electronic Music Center?
In 1957, I met Otto Luening and Vladimir Ussachevsky at the MacDowell Colony in New Hampshire. I was alone in the Colony's library one day, plucking wire and twine that I had attached to the strings of a piano. I was working on the composition Symphonies in Sonic Vibration: Spectrum no. 1 for extended piano. The wires were stretched across the room and tied to various knobs and other fixtures. My ceramic Egyptian darabukha hand drum was also resting on the piano strings. This gave me an even wider gamut of sound possibilities. Luening and Ussachevsky happened to walk into the library while I was performing and they became very interested in what I was doing. Otto Luening said: "It looks like you are doing something that we need at Columbia." As a result of this encounter, they offered me a small grant to experiment at their newly formed electronic music studio in the basement of the McMillan Theater at Columbia University. I arrived in 1958 and by 1959, the studio moved to 125th Street and became known as the Columbia-Princeton Electronic Music Center.
Tell us about your time at Columbia-Princeton.
Columbia-Princeton was a terrific place. Since each of the composers came from a different culture there was a refreshing mixture of approaches, yet a unity found in the electronic medium. Varèse, Ussachevsky, Luening, Milton Babbitt, Bülent Arel and I all came from different cultural backgrounds. In my own work, most of which I did in 1959, I brought international instruments such as oud, tabla, Ceylonese drum, bamboo flutes, and also my own speaking, chanting and singing voice, both in my own language and in English. To these I added sine waves, square waves and white noise, and treated all of the sounds with various filters, methods of layering the sounds, loops and voltage controls, as well as the Philips Black Box and, while working on a collaboration with Otto Luening entitled Electronic Fanfare, the RCA Sound Synthesizer. One nice thing about Columbia was that every Friday the electronic composers and other music faculty had a cocktail gathering and we talked about performances. We sometimes drank at local bars around 125th Street, and also at two clubs in Greenwich Village, the Village Gate and the Five Spot, where we sometimes did tape music performances.
The electronic drama Leiyla and the Poet is my best known electronic work from that time. It was included in the first concert by Columbia-Princeton in 1961, where it created quite a stir, and also on its first recording in 1964. It is a modern retelling of the Majnun Leila legend of ancient Arabic/Persian culture. I had been in Egypt and France and returned to complete the piece and attend the concert. The audience at that first concert included many contemporary composers, artists and dancers, but even so, some responded with nervous laughter and yelling. Dancer Yuriko Kikuchi, a member of the Martha Graham Dance Company, told me after the concert: "Your music hit me in my stomach, so I had to scream!" In general, I found that most people, even Martha Graham, didn't look favourably upon electronic music. Few thought of it as a way to create serious art. However, Leiyla and the Poet has apparently inspired many electronic composers and popular musicians including Frank Zappa and the West Coast Pop Art Experimental Band. Young composers Alice Shields and Neil Rolnick found inspiration in the recording. My work Symphonies in Sonic Vibration: Spectrum No. 1 was used in a late 1960s experimental film, Herostratus.
Music and Sound
Your music is very much rooted in the qualities of sound itself. When did that begin for you?
I have always been fascinated with sound. I feel it in my body. When I was young, I used to play tone clusters and inside of my brother's piano. When I came to America, I met Henry Cowell, and realized that he did the same thing. I used to hang out with him. Back in Egypt, I made unusual sounds in other ways, too. When we didn't have drums, we used pots and pans and noisemakers. There was a lot of innovation. In Egypt, there is a big ceremony for everything, especially for circumcision. On these occasions, people gather together and put up a big tent, and celebrate with drums and pots and pans and cymbals. They change their voices with ululations, up and down. I listened to the sounds and recording them was fascinating. I was just ecstatic about sounds.
How did that sense of sound translate into your work with electronic music?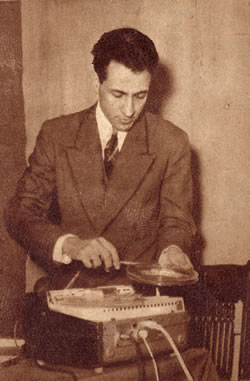 What I loved most about electronic music is the feeling that I could sculpt sounds. I felt like a sculptor, taking chunks of sound and chiselling them into something beautiful. I felt satisfaction and joy in the process of doing it. It was a great ecstatic feeling and I was excited about sharing it with others. I was especially excited about the performance of [my 1959 tape piece] Leiyla and the Poet. It certainly didn't sound in the studio like it did in the McMillan Theater, with 30 speakers! Like I mentioned earlier, Martha Graham's dancer said that the sound hit her in the stomach. I, too, hear sound through my body. My body feels it. That's how actually I can tell whether I like it or not. It's physical. The experience includes hearing, but I can also see sound, the different shapes, sounds and colours. Electronic music attracted me because I can actually see (representations of) the sound. In 1968, I did an electronic Prometheus, one of three versions that I created for a high school group. I've been thinking recently about returning to electronic music again.
As an Educator
Teaching has been integral to your career for many years. Do you continue to teach?
I teach part-time at the Center for African Studies, at Kent State University. Ever since I taught at Howard University, in Washington, D.C., I've taught my classes using sounds and language, and songs of the area we are studying. I love teaching and I like to have fun when I teach. Everybody moves (dances) in my class. Sure, they do academic work, but they have to be involved by dancing and moving and singing, so that they can gain a feeling of the region that they are studying and its people. We generate all of the sounds of a culture ourselves in class. I create a lot of African traditional stories with my classes. In my classes, everyone plays a part in putting on a show, creating costumes and masks from the various African peoples. I have never published any of these plays or sent them out.
Musical Sharing Across Cultures
Under what circumstances have you recorded music from other cultures?
I travelled to many villages in twenty different African countries. I would come to the village and listen to their music, make recordings and play them recordings of my electronic music.
I'm interested in hearing that people were willing to allow you to record their voices. In many of those cultures, don't people believe that their singing has a sacred quality?
They expect to hear completely different ways of making sounds in other neighbouring cultures, and so are much more comfortable with music that transforms sounds, like the electronic music that I played them. In the cities, people are exposed to much more homogeneous sounds and music and less diversity, just as in the West.
Yes, they do. Sometimes people wouldn't allow me to record them. One man told me that he didn't want me to steal his voice. He thought that it would have been like my taking his soul and not giving it back. And of course I didn't record him. But what I often did was not immediately record. Instead, I would listen to their music, get to know them, reach them on a personal level. And then, when I told them about the recorder that I had, they would sometimes ask me to record them. They wanted to be heard. And when I played back their voices, it was just amazing to them.
In a recent lecture [at Columbia University on 20 January 2006], you mentioned that you found people in the villages far more open to your electronic music than were people in urban areas. Why was this? Was it because, as you noted, timbral transformation is such a major aspect of traditional African singing and instrumental playing?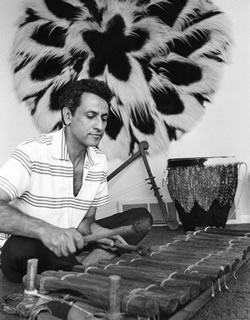 Timbre is indeed a central element in their music, with the changes they make in their voice tones, and noise elements in their instruments. But this was not really the reason. In Africa, one can travel maybe ten kilometers and find a completely different cultural group and thus a different music and a different way of making vocal sounds. Because of the great diversity, so close at hand, people become used to diversity in musical sounds in general. They are open to different types of sounds. They expect to hear completely different ways of making sounds in other neighbouring cultures, and so are much more comfortable with music that transforms sounds, like the electronic music that I played them. In the cities, people are exposed to much more homogeneous sounds and music and less diversity, just as in the West.
Given the religious quality of much of the music that you've recorded, do you have any reservations about using it in your own music?
I generally record African village music just for them and for me. It's between us. This is why I have never released recordings from African villages. Then again, one of my most recent works, which I performed at the Festival in South Africa, uses some of those recordings, many placed together to create a dense texture, with which live performers play along. At this performance, a performer of a traditional harp from Zaire was playing in part of the piece. There was a section that included music recorded in a village nearby his own, so he knew the music. Even though it wasn't his own music, it was familiar so he was able to play along with it. It was amazing.
What value do you think the villagers might see in your recording them?
Some say that my recording their voices is helping preserve their culture. If it is played and listened to by other people, that might generate interest in their culture. Pops Mohammed, who I met in South Africa this year, told me that he considers it to be a good idea for people to use sounds from his culture so that more people will know about the culture and it will be preserved.
Some would say that transforming those sounds diminishes the culture rather than preserving it.
I prefer to think that music belongs to all of us. Respectful transformations can be powerful and take us forward into the future.
New Directions and Rediscovery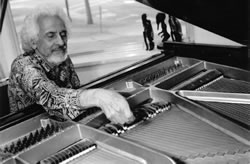 You are 81 years old. 2[2. This part of the conversation took place in 2002.] Your life sounds extremely active and social.
I make friends very fast. I interact with people. Areas and people inspire me. I live the moment. I know that the moment is very important. I cherish my friends and the people I know. Inspiration comes to me constantly from contact with people and with the whole universe. When I go places and hear different languages and sound, it gives life all of the time. Sculpting sounds and composing continues to excite me. The students I meet ask me to create work for them and it excites me.
What has it been like to be rediscovered at this point in your life?
After I left New York and went to Ethiopia in 1962, people forgot about me as a composer. I became known as a musicologist. Now, I'm excited about being rediscovered in my 80s. I feel habitual ecstasy. I feel grateful to my friends and my success doesn't go to my ego. In the last five years, I have travelled to hear my music performed in Alexandria (Egypt), Johannesburg (South Africa), Cambridge (England) and Beijing (China). I also continue to love teaching. I like to have fun when I teach. In my classes, everybody dances, moves and sings.
Acknowledgements
Many thanks to David Badagnani for his assistance and encouragement.