English
[Festival Report]
Oscillations 2008
The 2008 Oscillations Festival of Electroacoustic Music took place in Halifax, NS, February 2–3, at Saint Mary's University Art Gallery and Eyelevel Gallery. As before, the Festival events included formal and informal concerts, and free public workshops.
Although the Festival had received strong support from Acadia University in Wolfville in 2003 and 2005, organizers believed that moving the Festival to Halifax would substantially increase audience numbers. That assumption proved correct, with improved numbers reaching the ranges reported for similar events in much larger Canadian cities.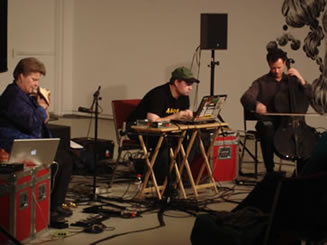 The first concert, InterACT, a co-production of Oscillations and the Halifax improvised music presenter suddenlyLISTEN, was described as a blend of "acoustic instruments and electronic technology in a performance rooted in careful listening and interactive improvisation."
Guest artist Monique Buzzarté, a New York-based trombonist, collaborated with Halifax musicians Norman Adams (cello/laptop), and Andrew Duke (laptop) in a series of collective creations. Buzzarté and Adams both used extensive real-time processing with Max/MSP, while Duke contributed textural sound-file playback. The trio's carefully constrained dynamic and gestural range facilitated tasteful synergy and responsiveness. At the same time, there were episodes of sonic exuberance, particularly from Buzzarté (who briefly abandoned the trombone for a conch shell at one memorable point).
An informal, late-night Laptop Cabaret followed InterACT. The aim of the event was to provide a forum for local laptop artists and DJs working with beat-based materials. Several artists participated, but overall the event was quite low-key, and more like a private reception than a performance.
The first of the workshops was an introduction to music and computers by Andrew Duke. Significantly, most participants did not attend other Festival events — a reality that highlights the "solitudes" of electroacoustic practices, particularly the division between beat-based music and most other types of work.
Guest artist Scott Wilson, a Canadian who teaches in the UK, presented a more advanced workshop, showing an attentive audience some of the features of SuperCollider software. Wilson is a very active member of the SuperCollider developer community, and uses the software in his own performance and research.
The final concert of Oscillations 2008, The UK Connection, took as its curatorial stance "Canadian composers with a strong professional or academic connection to the UK." The first half of the programme was acousmatic works by David Berezan, Derek Charke and Steven Naylor, and a mixed piece by Ian Crutchley performed by soprano Helen Pridmore.
The second half, and the finale of the Oscillations Festival, was a performance by Scott Wilson of his mixed-media work MüllMusik. The core of the work is based on real-time manipulation of discarded audio and video materials, which Wilson augments by performing on found object instruments. Using a combination of hi- and low-tech devices (computer, accelerometers, metal lids, junky amplifiers, and a worn-out violin bow, among others), Wilson took the audience on a complex and absorbing visual and sonic journey, ending the concert — and the 2008 Festival — with a strong sense of the range of possibilities of electroacoustic music today.