English
Discussion with Douglas Henderson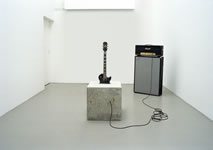 Écouter l'enregistrement audio original de l'entrevue (format mp3):
Listen to the original audio recording of the interview (mp3 format):

Discussion with Henderson at Tesla, Podewils'schen Palais in Berlin. In English after a brief introduction in German. Some of the audio in the original recording has been replaced for an improved listening situation. 20 November 2007. Duration 1:52:00.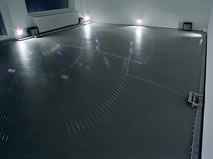 Born in 1960, Douglas Henderson is a sound artist whose work spans all aspects of the medium, from electroacoustic sound compositions to sculptural works and installations. A 2007 guest of the Deutsche Akademische Austausch Dienst (DAAD) Berliner Künstlerprogramm, he currently resides in Berlin. Studying with Milton Babbitt, Elie Yarden and J.K. Randall, he received his Ph.D. in Composition from Princeton University in 1991. He has been making, composing and performing internationally with a variety of artists, including John Zorn, Zeena Parkins, Jude Tallichet and David Scher. He has composed extensively for modern dance and has toured the US and Europe performing original work. In 2001–02 he chaired the Sound Art Department at the School of the Museum of Fine Arts, Boston; in the 80s and 90s he led experimental punk band Spongehead and was a member of the notorious Krackhouse.