An Electroacoustic Studio of One's Own
20 iii 1998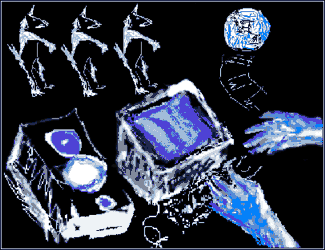 1928
"Of Mlle. Germaine Tailleferre one can only repeat Dr. Johnson's dictum concerning a woman preacher, transposed into terms of music. 'Sir, a woman's composing is like a dog's walking on his hind legs. It is not done well, but you are surprised to find it done at all. "
In 1928, Virginia Woolf cites the above phrase, from the recently published A Survey of Contemporary Music by one of her contemporaries Cecil Grey, in her own article entitled A Room of One's Own. In this article, Woolf encourages women to gain financial independence and to create for themselves an individual space for their own artistic expression.
This phrase has haunted me since the first time I read it. In the world of electroacoustics, there are so few women composing that I often feel like somewhat of a curiosity:
in university, where there were never more than two women per class
at concerts where it is seemingly normal to play only music created by men
in music and computer stores where getting the attention of a salesman is sometimes virtually impossible, being a woman.
One of the reactions to my concern of the presence of so few compositions by women in concerts is the response, "Girls aren't interested in technology". I feel, therefore, obliged to unveil part of my abnormal childhood, to perhaps explain the normalcy of the fact that I compose electroacoustic music, and I am a woman!
1970
I receive, as a gift, a fantastic red firetruck.
First musical experience:
Grandmother's piano, under the disapproving and tormented regard of the famous bust of Beethoven, a symbol of a world which excluded women for centuries.
First electroacoustic musical experience:
At a kids' party, someone plays Pierre Henry's Variations pour une porte et un soupir on the record player. All the children laugh at the sounds which, for us, were so unusual and funny.
1974
First electroacoustic studio:
turntable
A Sony cassette recorder (one of the first "professional" models my Mother bought for her work, which continually destroyed our tapes)
Pierre Henry's Messe pour un temps présent
I began to record the stories I told (a maze, a castle, extraterrestrials...) using the B-side (Henry's la Reine Verte) as a soundtrack, along with home-made sound effects (wind: blowing into the microphone, etc...)
1975
I come to the realization that the heros in most books are men, with women having as roles to admire their feats, and subsequently decide to abandon my musical pursuits.
1986
Finding myself (accidentally) in a University electroacoustic course, I re-discover the pleasures of working and creating with sound, and the use of technology.
1996
Studio Dragon, my electroacoustic studio:
A dream finally realized after many years of hard labour. Now autonomous, I can continue to explore without constraint, as when I was a young girl.
1997
Studio Dragon, my website:
A creative space, new methods in sound diffusion, imperfect, yet offering many possibilities for the future.
1998
I look forward to the day that the announcement of a concert in which many women's works are present will not cause me to wonder if the concert is scheduled for the 8th of March. I look forward to the day we will be referred to as "composers", and not as "women composers".
Translation: Jef Chippewa