Journal de bord d'une expédition aux antipodes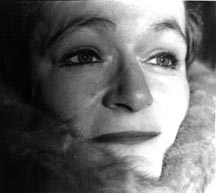 ii 1998
Pôles is about two strangers meeting in some futurist world… like a high-tech Waiting for Godot. Ginette Bertrand's original music is a triumph of eerie menace and celestial harmony.
Paula Citron, Globe and Mail, septembre 1996.
Written in a loosely informal style, the Québecois composer Ginette Bertrand writes that composing to measure [sic] for multimedia, above all working with four hyper-active delusional hallucinants, is polar hell.
In Banff in April 1996, with the Savoie/Hall and Lemieux/Pilon, the anguish of creative indecision is clear. Access to superlative ea technology demanded an attitude of gorging. Four weeks of thrashing sounds in the studio led to three hours of material and a clear idea of the desired result. Yet it was only one week before the show that the final durations for the segments became fixed. (Successfully done with the aid of long time collaborator, Pierre-Paul Savoie.)
Three soundtracks seemed the way to go to achieve continuous sound. Without losing a beat in the two months leading up to the Ottawa premiere, scenario in hand, workshops with the choreographers and rushes of the virtual sequences, the inter-connected tripartite nature of the sound emerged: a predominant choreographic soundtrack with live thematic punctuations a cinematographic track to support the virtual visuals a base ambiance track (concrete and cosmic) to tie things together.
This is Pôles' soundfield: 15 scenes 63 minutes.
The polar opposites of starry voids and ocean depths provided the themes for the evolution of the musical language. Inspired by a Thai lullaby the theme for P.P. (the astral visitor) is a slow pianistic motive based upon the harmonic series.
For the deep aquatic character, Jeff, frenetic rhythmic incantorial, Indonesian-inspired sounds were accompanied by sampled concrete sources. The themes are everywhere reflect the characters' differences and struggles: and, at the behest of Pierre-Paul, in the middle a Beethoven Seventh quotation a homage to the most beautiful of Occidental music fusing past and future, North Pole and South Pole, and reconciling the differences between the principals.
Ginette Bertrand has been active in concert music composition for more than 15 years, passing from solo to orchestral writing, and now focused on ea, the past 10 years devoted to multimedia and multidisciplinarity. For PPS Danse she has composed a number of commissions. Critics have written well of her work.
A CD of Pôles is available: contact the composer.
traduction: Kevin Austin
98-iii-22
KA, Montréal
Kevin Austin teaches in Montréal and is an occasional translator [traducteur d'occasion].