English
Shadow-walks
Toronto edition
Introduction
My ongoing sound project Shadow-walks began in 2003 and Toronto is the thirteenth location where it has occurred. The project involves three main elements: walking with others, listening to environmental sound, and my own improvised singing.
My background is as a singer, and walking has been a part of my work for some time. I am interested in places and people's sense of place, and I have found walking to be a very direct way of experiencing a location. There are traditional links between walking, singing and the sense of place, including the Aboriginal Songlines, and the Song Paths of the Kaluli people from Papua New Guinea, described by sound anthropologist Steven Feld.
My interest in the everyday sounds that are often ignored or blocked out relates to composer Pauline Oliveros' method of "Deep Listening"; I have noticed that with focused attention even the sounds of a noisy construction site can begin to seem quite fascinating and complex.
This concern with environmental sounds and musical improvisation led me to consider methods of exploring places and interacting with them vocally. My first attempts were called Vocal Strolls and consisted mainly of walking in the city while listening to the environment and responding with improvised singing. I recorded these drifts with binaural microphones to produce a subjective three-dimensional soundscape when heard back through headphones.
The Project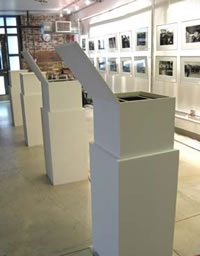 Shadow-walks came about through my interest in incorporating other people's experience of familiar places into my work. When we walk through a particular area frequently, I wondered how that place affects our psyche, and how we affect the place. I was attracted by James Joyce's dictum that places remember events, and by the idea of walking through layers of people's personal history and memories. In a sense, Shadow-walks are an attempt to make a person's traces audible.
The process is straightforward. I arrive in a new place and ask to be taken on a special walk, one that has been repeated many times and has meaning or significance for that person. While walking together, I record our conversations and environmental sounds. This is followed by a solo walk in which I attempt to sense my previous companion's traces on the walk and to make them audible through improvised singing in the location. These recordings are then taken back to my studio and edited together to become the final work, the Shadow-walk. All the sounds and singing heard in the work were recorded in the actual place.
Shadow-walks have been disseminated in various ways: as audio-walks, radio pieces, at listening posts around a town and, most frequently, as sound installations in art galleries.
Found Objects
As I follow the person's route, I collect everyday objects from the street. This was inspired by the practice of British walking artist Richard Long. As his walks usually occur in rural locations, the materials he transfers to the gallery tend to be natural, such as mud, stones or slate. My walks usually take place in cities or towns and therefore the objects I find, with the exception of occasional feathers and leaves, are typically debris and litter. These found objects are easily ignored traces left behind by others and they create a fascinating collage of a place through its detritus.
Two Examples of Shadow-walks
Grand Marais, Minnesota, USA, 2007
Grand Marais is a small border town in Northern Minnesota, USA, on the shore of Lake Superior. Here amid the snow, ice and howling winds of April, I met a community of people who had escaped their pasts and left their cities, drawn by a need to live close to the lake and wilderness. Nine people took me on their special walks.
The composition created from this artist residency was called At the End of the Road. I had been told: "People are just trying to get away and this happens to be the end of the road," and "Somehow you're in touch with the wilderness and I think that attracts people — and it's the end of the road."
Between Grand Marais and Canada there is a vast preserved area of lakes and trees with little habitation. Many of the people that I met had left well-paid professions in order to do menial work in Grand Marais, simply because they found life there rewarding, off the grid and close to nature.
Their walks took me to places important to them. A male nurse went to a car park to revisit the moment when he realized that he had finally found home in this town. A cartographer climbed up to a panoramic view, an artist went to the shore where she paints ice boulders in spring, and an Arctic explorer walked by the river where he goes to recover his health and shake off depression after each expedition.
Grand Marais is not paradise: among other things, many young people are forced to leave in order to find work. But the beauty and scale of Lake Superior, with its crashing waves and full-spectrum sound, is overwhelming. In my singing, I heard echoes of Inuit and other Northern folk traditions that related to the harsh environment and to this community with its strong sense of place.
Toronto, Canada, 2009
During my residency with New Adventures In Sound Art I was taken on seven walks that had been chosen as special.
One retraced an old love story and was a reminder, through place, of a lost moment when possibilities were glimpsed. It included a sense of nostalgia for a once-derelict space remembered from childhood.
A stroll that went through a ravine spoke of that person's deep relationship with nature — mystical, cultural and embodied. Two walks focused on healing, one physically as a daily circuit for cardio exercise and the other spiritually. This walk paused at the many quiet places within the downtown financial zone and expressed the walker's belief that the city can offer comfort and strength through a sense of connection and belonging.
There is something quite intimate about the sharing of a person's special walk. People reveal a great deal about themselves and their relation to the world by inviting me, a stranger, into their lives for the time it takes to walk the route together. It is a generous act, for I learn the territory through another's experience and I have a sense of something being revealed to me.
For my sound installation at Sound Travels I wanted to extend this intimacy and shared experience to the visitor. I created a version of the old European music box, an object that incorporates a sense of child-like wonder and personal agency: lift the lid and music plays, close it and it stops. The work was presented using four white boxes, each containing a different composition. In the original music box there was often a tray for jewellery, but in my version the trays contained objects found on the walks.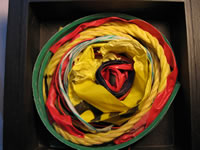 Conclusion
I began this project, Shadow-walks, by asking what it is that makes a walk special or meaningful to someone, and how my vocal improvisations might relate to that person's sense of identity within their selected location. I have discovered that surprisingly few walkers choose routes where natural beauty is the main feature, that mostly the walk is embedded in their daily lives and that, even with young people, often it relates to their past. My vocal soundings have not become formalized into a system but remain an intuitive response, often to the undercurrents of the walk.
Attitudes to walking differ between places where this project has occurred, in Europe and North America, but the notion of the "special" walk seems to be widely understood. Through my improvisations and compositions, I am trying to convey people's special relationship with familiar places and also how that links to the interior landscape of personal history, memory and association.