EMS Archival Project
Montréal: McGill University — Schulich School of Music
General Background and Overview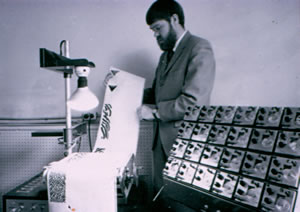 Since its inception in 1964 the Electronic Music Studio at the Faculty of Music, McGill University has been one of the leading centres in the field of electroacoustic music in Canada. Many of works produced at the EMS have received national and international recognition. Also, many have been performed at well-known electro-acoustic and computer music conferences and festivals.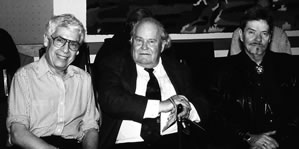 The McGill Electronic Music Studio collection includes works by faculty members, students and visiting composers. Among those using the facilities of EMS were Hugh Le Caine, Bengt Hambraeus, alcides lanza, Bruce Pennycook, Horacio Vaggione, Luis de Pablo, Christian Calon and Gilles Gobeil. Many of the compositions created at the EMS possess unique artistic and historical value. These reflect the evolution of electroacoustic music, including musical examples in the areas of "musique concrete", analog and voltage control synthesis, and sampling and digital audio signal processing.
Project Notes
The Electronic Music Studio Archive Project was initiated in 1997 by alcides lanza [EMS Director Emeritus] and Bruce Pennycook [former Chair, Music Technology Department, Faculty of Music], and supported by Cynthia Leive [Head, Marvin Duchow Music Library]. The primary goal of the project was to put in archive all the analog and digital tapes of the EMS collection, using modern compact disc technology in order to preserve the content from degradation. Another goal of the project was to make the EMS collection readily available to students, staff and researchers at the Faculty of Music and Marvin Duchow Music Library.
Phase I of the EMS Archive project, consisting of 35 masters in the format of compact Disc Digital Audio [CD-DA] and the double CD Tornado was finished October 2001. That phase of the project was funded by Canadian Heritage, with support from the Office of the Vice-Principal [Information Systems and technology], McGill University. Phase II of the project put all available concert recordings of GEMS [Group of the Electronic Music Studio] on CD also. Phase III has involved the creation of a digital archive, which will be accessible through the McGill Libraries Digital Archive Program.
At present [as of November 2008] the archive consists of 46 different CDs with compositions created at the McGill EMS and 22 other CDs with recorded GEMS concerts.
EMS Archival Project
1. Introduction to the Collection
The Electronic Music Studio Archival Project [also referred to as the EMS Archival or EMS Tape Restoration Project] was initiated in 1997 by alcides lanza [then EMS Director] and Bruce Pennycook [at the time Chair, Music Technology Department], and supported by Cynthia Leive [Head, Marvin Duchow Music Library]. Persons involved in maintaining the collection: Professor alcides lanza, Professor Bruce Pennycook [eventually replaced by Professor Ichiro Fujinaga] and Cynthia Leive are the coordinators of the project. The initial objective of the project was the resoration and preservation of all electroacoustic compositions created at the McGill EMS. Nevertheless, the scope of the project is today much larger, since we are including performance recordings of historical interest reallized by our ensembles, recordings with canadian music content — electroacoustic or instrumental — plus visual information like relevant scores, photos, slides and concert programs, At the present time [2008] Professors Pennycook and Fujinaga are no longer participating in the project. The present committee has now two new members, Professors Marcelo Wanderley and Philippe Depalle.
Technicians: during different stages of the project, graduate students have been hired to realize all necessary transfers from analog to digital. Chronologically, Oles Protsidym, Ian Knopke, and Neil Middleton, with secretarial assistance from Catherine Lai, and technical supervision by Richard McKenzie, EMS Technician.
2. Overview of the Holdings in the Collection
EMS Archival Project [McGill University — Schulich School of Music]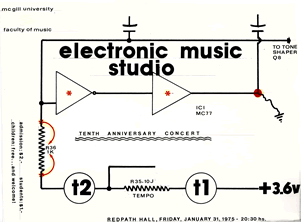 Where the collection is housed
EMS [1997–2008]; Marvin Duchow Music Library [2008–]
Number of works in the collection
Approx. 400 [distributed in 46 CD masters [Phases I–IV] and 22 CD masters of GEMS concerts]. A good portion of the collections was made available on line in the "Coltrane site" [See below].
Range of years of composition / performance
1964–2003.
Formats found in the collection
Open reel tapes; cassette tapes; DAT tapes.
General state of the collection
Very good.
Works recovered and archived
70% of the EMS holdings. Presently, we are also looking into performance recordings, as explained above.
Percentage of unrecoverable works
2% [open reel tapes that have deteriorated beyond repair; tapes that would have damaged the playback tape recorders]
3. Artistic and Cultural Importance of the Collection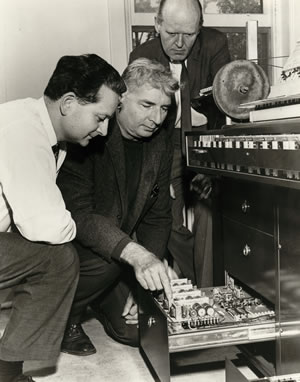 This project aims to digitize, preserve, reformat, and make accessible on the Internet various concert recordings by ensembles of the Schulich School of Music of McGill University, giving priority to the recordings of Canadian musical works [instrumental, electronic] by staff composers, student composers, or visiting artists of McGill University. Many concerts with our different instrumental ensembles, choirs and soloists, have taken place at various McGill University concert halls since the 1950s. Recordings of these concerts until 1990 were made on magnetic tapes (cassettes, open reel in 2 and 4 tracks, DATs), which are now in danger of deterioration. The magnetized iron particles in the coating of the tapes are subject to a chemical corrosion process due to the passing of time. These recordings with premieres of new compositions by McGill composers (both staff and student), mixed-media installations involving digital music and newer technologies, and concerts featuring ensembles of the Schulich School of Music, are all an important part of Canada's historical and musical heritage.
Adding to our archives photos and slides of machines used in our electronic music studios, we plan to at least have a visual documentation of the different stages of this quickly evolving electroacoustic technologies. Our EMS has gone rapidly from the use of Hugh Le Caine multiple inventions for the production and treatment of electroacoustic music, to early digital synthesizers and todays all digital studios. An audio and visual documentation of that evolution is part of our goal. Equally, we plan to scan scores and concert programs relevant to our archives.
4. Recovery / Archival Activities
We have created our own system for the safe playback of older tapes, with good and positive results. Due to the nature of any archival work, we transfer the compositions without any modification in terms of amplitude changes or tape hiss elimination. The analog tapes are played back and are digitally stored in a computer hard disk. The encoded material include a complete database with digital audio files. All has been transferred to the McGill Digital Library. At the same time a good portion of the collection has been mastered to CDs and only four copies of each are made. This permits us to keep a complete set [about 65 CDs] in the Marvin Duchow Music Library. Masters and copies are kept in the EMS [but we plan to transfer them as well to the MD Music Library].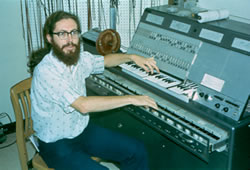 The technical processes used in recovering / digitizing / transferring the works involved:
Digital transfer of analog tapes and data entry, including type of tape, place of recording, duration of work, performers, conductors if it applies, etc.
Preparation of a database with addreses, phone numbers or emails of person to request loan/use of the recordings.
Creation of a database to hold the metadata and the content of the digitized materials.
Creation of a Master and four CD copies.
Copyright clearances for permission from composers and performers for publicposting of audio files on the Inernet.
Design and implementation of a web delivery system, with searchable metadata.
5. Financial, Human and Institutional Resources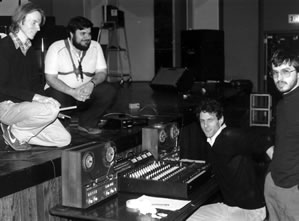 Since 1997 the EMS Archival Project has received financial assistance from the Department of Canadian Heritage and from Information Systems and Technology, McGill University. Additionally we have received grants from AVTrust [Music Memories Program].
The Schulich School of Music supports the ongoing research by Professor alcides lanza [preservation of recordings of Canadian musical works [instrumental, electronic] by staff composers, student composers, or visiting artists of McGill University. The aim is to document Canadian compositions as well as the changing technical approaches to the preparation of ensembles, conducting, rehearsals docus operandi and concerts]
The project is coordinated by Professor alcides lanza [Director Emeritus EMS] and Cynthia Leive [Head, Marvin Duchow Music Library]. The project has counted with the assistance and collaboration of the EMS [now called Digital Composition Studio], Information Systems and Technology [Professor Bruce Pennycook] and Music Technology Research Laboratories [Professor Ichiro Fujinaga]. From this last area, Professors Marcelo Wanderley and Philippe Depalle have now joined the EMS Archival Project.
6. Dissemination of and Access to the Collection
See (4), above.
7. Future of the Collection
The future research will include the localization of tape recordings [or early DAT recordings] from the jazz and wind ensembles, percussion ensemble, and choirs. We plan to search the holdings of never-released recordings in the archives of McGill Records.
8. Other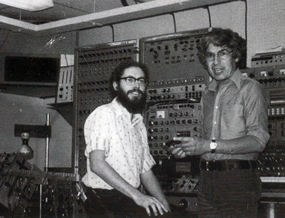 Materials extracted from the EMS Archival Project have already been of positive use. Last April, we coordinated with Eric Mattson, four concerts at la Sala Rossa under the general title of Je me souviens. Two of the concerts were devoted to the McGill EMS, the groups SONDE, GEMS and MetaMusic. The curator was Eric Mattson, with alcides lanza and Kevin Austin participating. Composers represented were Kevin Austin, alcides lanza, Paul Pedersen, Emily Hall and Justin Mariner.
Memories are frail and tend to deteriorate quickly, as the magnetized iron particles of the tapes do. That is, on the material, mechanical side. But, while searching for old recordings, there is another factor, a human factor, that magnifies the problem. A year or so ago, when I circulated a memo to staff, asking them for any open reel or cassette recordings they may have of their concerts as soloists, ensembles or as conductor of ensembles, here and there I received this [sad] answer: "…oh, well, alcides… I was cleaning my office preparing to the move into the new building and, I trashed many of the old tapes…" No comments.